Skydiving Gifts
Buy someone the ultimate experience gift
Help Centre
If you need help or have a question, we're here to help. Find the answers to all of our most frequently asked questions about buying gift vouchers.
Soon you will be to redeem your gift vouchers online but for now call our customer services team will be more than happy to help, just call 01722 442967 and one of our customer service agents will get you booked in.
Skydiving make a great gift for anyone wanting to explore the adrenaline fuelled world of skydiving! Whether it's a birthday, anniversary or group get together, skydiving is a great gift! We offer gift vouchers starting from £50.  Why not check out our guide to buying a skydive experience as a gift
We do! For quick gift ideas, we have digital vouchers available. It's the perfect gift to print, pop in a card and watch your loved one's eyes light up as they open an experience they'll never forget!
Physical vouchers come with an e-voucher as a back up, that can be gifted by the buyer.
GoSkydive 10,000ft and 15,000ft Gift Experience Vouchers are valid for 12 months from the date of issue unless otherwise stated. You will be emailed all the details about how to redeem the voucher in your voucher purchase confirmation email. The recipient simply needs to give the team a call on 01722 442967 to redeem their voucher against their chosen date for their tandem skydive.
Vouchers may be extended up to 6 months beyond the 6/12 month validity period for a cost of £30 unless authorised otherwise.
Useful Guides
We have a series of guides to give you more information about skydiving and what it entails, or check out our FAQ page if you have a specific question.
FAQ
Skydiving Experiences
Gifting a skydive to a loved one can be life-changing for them. Whether you're looking to skydive with friends, a family, or even a corporate event, GoSkydive has a range of group tandem skydive options for you to choose from.
Taking the leap with GoSkydive is a memorable experience that you and your team or group will never forget. When it comes to recharging the mind, helping with mental health, or just putting everything into perspective, nothing beats jumping out of a perfectly good airplane. Experience it for yourself and see how life-changing it can be!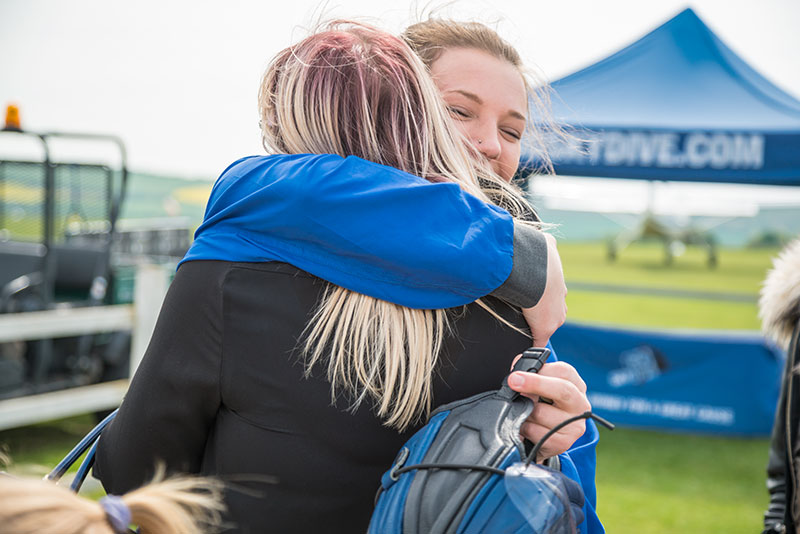 Skydiving as a Group
No matter what your needs are, we have a package that will suit your needs, whether it be team building, employee incentives, corporate events, or just a group of friends celebrating a significant milestone.
Whether you're jumping with a large group or a small one, we offer fantastic rates, as well as a variety of photo and video packages to help you remember your skydive forever.
For a group of 2-4 they'll receive £10 off per person, 5-9 £20 off per person and 10+ £25 off per person. These discounts are only valid against a 10,000ft or 15,000ft jump.