After you book
Once booked you will be sent an email with a link to your "my jump" portal which is your personal online portal for managing your jump. In here you can make payments, change your dates and upgrade your jump altitude, if you haven't bought one as part of your order then adding one of our camera packages is a must, you wont regret it!
You will receive regular updates via email and SMS as the date of your skydive gets nearer, however check back at your "my jump" portal regularly for weather updates and to check on your balance.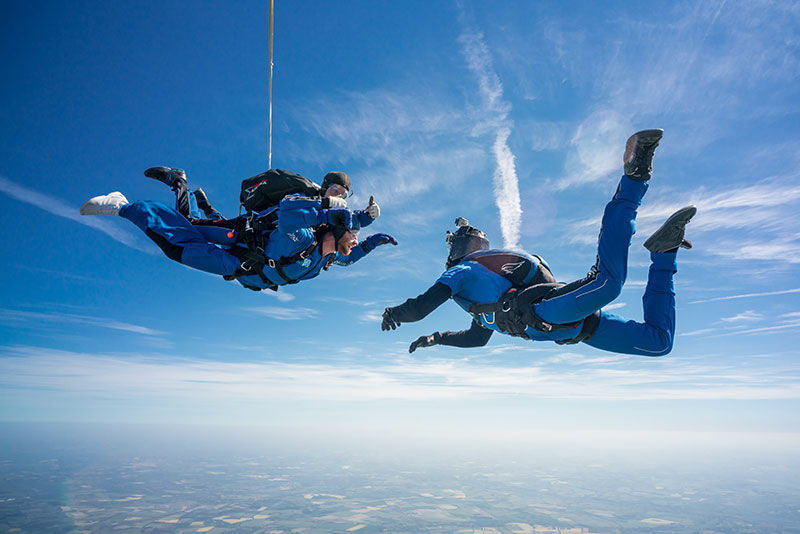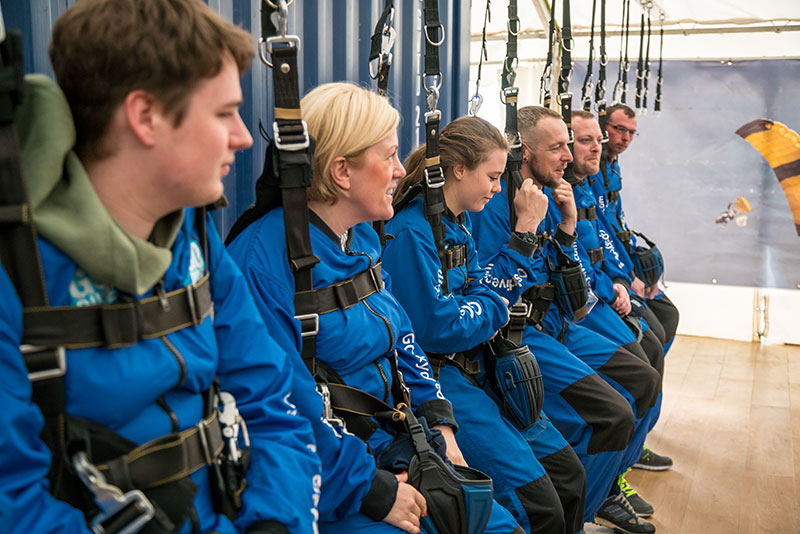 Tandem skydive training
A tandem skydive with GoSkydive is more than jumping out of a plane.
Your day begins with an introduction to GoSkydive and what to expect from your tandem skydive. Next you will be given specialist training by an experienced tandem master in a simulated training environment. GoSkydive is the only skydiving centre in the world to offer this level of training. Safety is at the core of the GoSkydive brand and this development takes the level of training over and above that of any other tandem skydiving dropzone in the world. Find-out more about how GoSkydive operates.
Kitting up
After your introduction and welcome on site our friendly ground crew will kit you up in a tandem skydive jumpsuit and fit your safety harness. You'll then be suspended with full harness in our simulated parachute so that you can effectively practice the necessary freefall and landing positions under the watchful eye of an instructor.
This British Skydiving approved training session will last approximately 10-15 minutes and will contain all the necessary training and information required to equip you for your tandem skydive.  Don't worry, we know the build up can be quite daunting, our jump experts are always on hand to answer any questions and allay any fears you may have.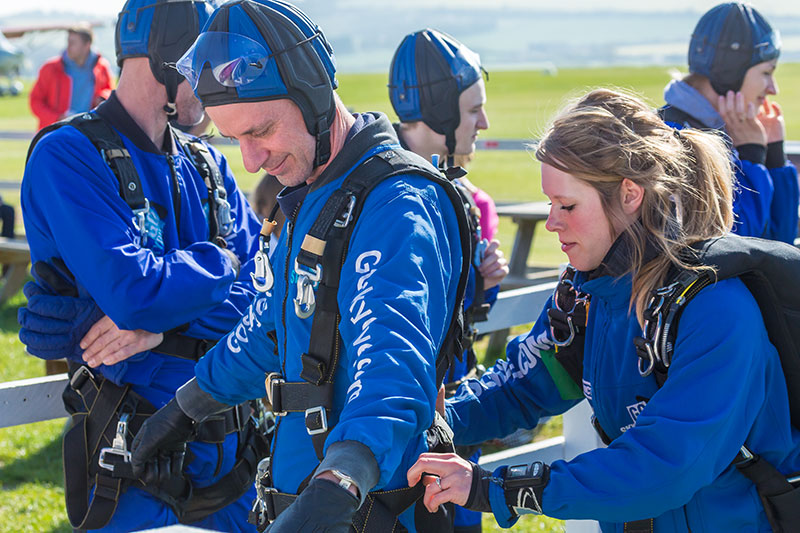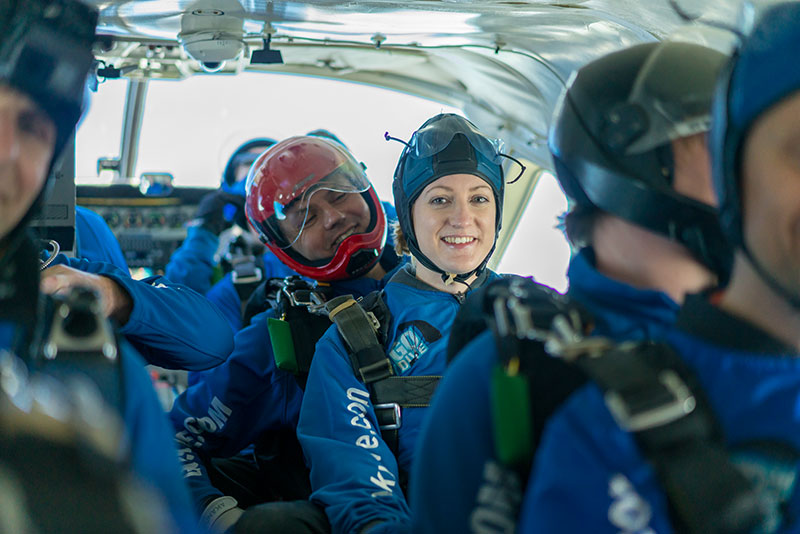 Flight up
Once your training is complete you will go through to the departure area where you will meet your personal tandem skydive instructor, he will make any final adjustments to your harness.  Your instructor will escort you to the plane and once inside he will secure your harness to his and the flight will depart.
Our pilot, will fly you up to altitude in our Cessna Super Cargomaster. This aircraft has been refitted to our specific requirements for tandem skydiving. It is the fastest tandem skydiving aircraft in the UK and will get you to your jump altitude in 10 – 15 minutes.
On the scenic flight up you'll take in views of either the historical Wiltshire countryside or the beautiful Gower Peninsula. Sights of major prehistoric significance include the Iron Age hill fort of Old Sarum and depending on wind direction the world heritage site of Stonehenge or the Welsh Countryside.
Tandem skydive and freefall
Once the flight has reached altitude you and your instructor will move towards the door for the next part of your experience which is the skydive itself.  The high adrenaline freefall starts as you and your instructor jump from your chosen altitude of either 10,000 or 15,000 ft.
This is amazing – you will literally fall through the air and rush towards the earth at approximately 125 mph – if you've chosen to jump from 10,000 ft this will last approximately 30 seconds or 60 seconds if you're jumping from 15,000 ft.
The rush is spectacular – and is often described as being transported to another world. You won't be able to hear your instructor at these speeds but you will feel him tap you on the shoulder which is your signal to move your arms into the freefall position that you will have practised.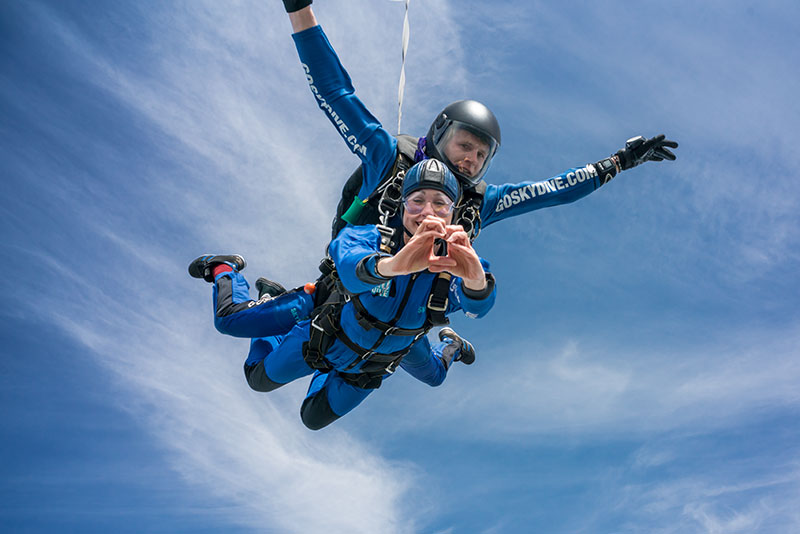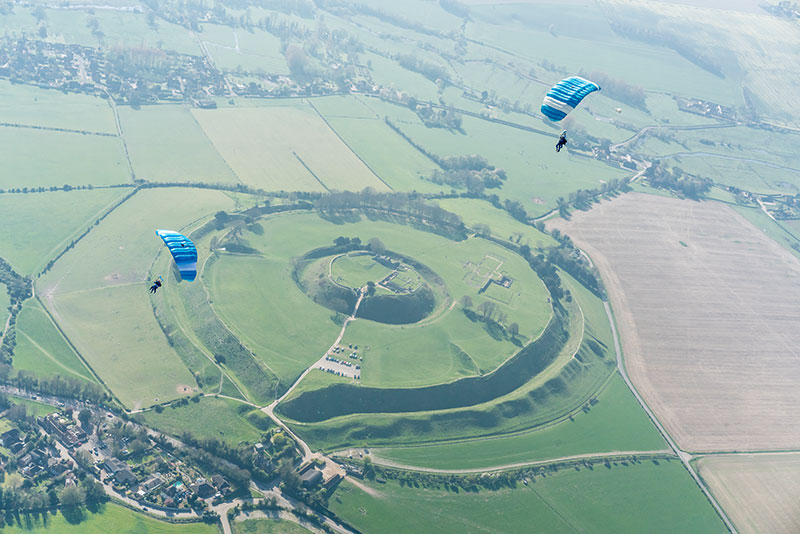 Parachute down
At 5000 ft your tandem instructor will deploy the parachute, this will slow your rate of descent to about 30mph.  You may feel as though you are being pulled backwards but you are just slowing down. The canopy produces the wind resistance needed to slow you down for landing.
This journey down to the landing area is pretty magical, you'll now be able to speak to and hear your instructor as you enjoy the quiet of the parachute ride compared to the rush of freefall.  Under canopy there is usually the opportunity to add some high speed turns. You can have a chat with your instructor on the flight up and let him know what sort of parachute ride you would like.
As you come into land you'll bring your legs up into the landing position that you will have practised in your pre-jump training. You can now congratulate yourself and your instructor!
Our ground crew will be there to meet you and make sure you land safely before guiding you to an area to "de-kit".
After your jump
After you have landed, if you have purchased one of our media packages one of our media team will get to work creating your video and stills form your skydive experience.  You will no doubt still feel the adrenalin coursing through your veins  when you receive a link via email and SMS, usually on your way home, containing the footage from your day here at GoSkydive.
You can download and keep the footage and stills as a memento of your experience that you can relive time and time again, don't forget to share it with your family and friends, you've earned your bragging rights!
And for those of you who loved it so much you want to try again, which is quite a few, you will also be the opportunity to rebook at a discounted rate!
What are you waiting for? Make the leap today