How Much is Skydiving?
We have different jump options to suit different budgets  as well as a flexible booking policy and payment schedule which means you only have to pay a £50 deposit at the time of ordering, you can pay the rest online  via your own personal "my jump" portal  as and when you want.  It's that easy, you choose how much to pay and when to pay with the final balance due 7 days before you jump.
Booking your skydive with us is easy, if you haven't checked out our jump options and prices be sure to head over there and take a look,  but our prices start from as little £50,  it will give you a full break down of the what we offer and the costs involved.  If you're thinking of buying a skydive as a gift then our range of skydive vouchers make a great experience gift for those with a sense of adventure!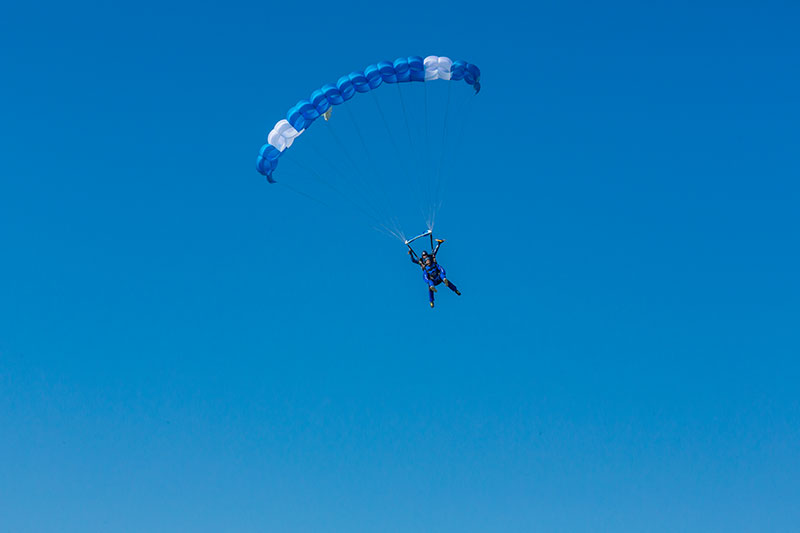 Choosing your jump height
People often ask what is the best jump height to go for, and we always say to go with what feels comfortable for you, but bear in mind most customers who go for a lower altitude often wish they had gone higher and will often return to do a higher jump.  The sensation of freefall is like no other on earth, quite literally, and so to maximise your experience it is best to go with the highest altitude you feel fits your budget and level of adventure, bear in mind you can upgrade at any time, even on the day of your jump, by paying the difference so what have you got to lose – book your skydive today and take the ultimate challenge of facing your fears!
Do you offer Skydiving near me?
GoSkydive is the UKs premier tandem skydive operator with sites in Salisbury and Swansea.  Getting to GoSkydive in Salisbury or Swansea is easy from anywhere in the country, whether you're traveling by car, train, or plane.
If you're traveling by car, our Salisbury site is conveniently located just off the A338, with ample free parking available on site. We're also within easy reach of the M3 and M4 motorways, making it easy to drive from London, Bristol, or Southampton, our Swansea dropzone is within easy reach of the M4 motorway, making it easy to drive from Cardiff, Bristol, or London.
If you're traveling by train, we're just a short taxi ride from Salisbury and Swansea train stations respectively, both are served by regular trains from London Waterloo, Bristol, and other major cities. Taxis are readily available outside the station, or you can book in advance with our recommended local taxi firms.
If you're flying in from further afield, we're within easy reach of several major airports, including Heathrow, Gatwick, Cardiff, Bristol, and Southampton. From there, you can rent a car or take public transportation to reach us.
No matter how you choose to travel, our team is always happy to assist with travel arrangements and provide you with any information or assistance you may need. We want your journey to GoSkydive to be as easy and stress-free as possible, so you can focus on enjoying your skydiving experience with us.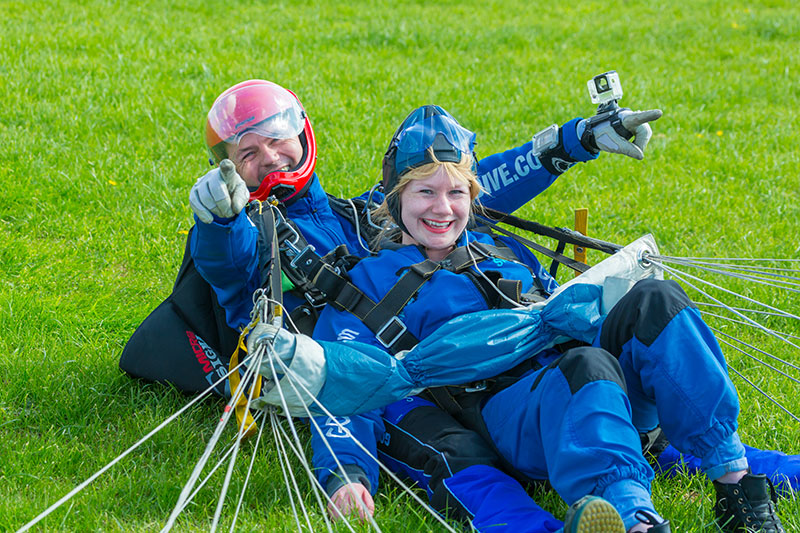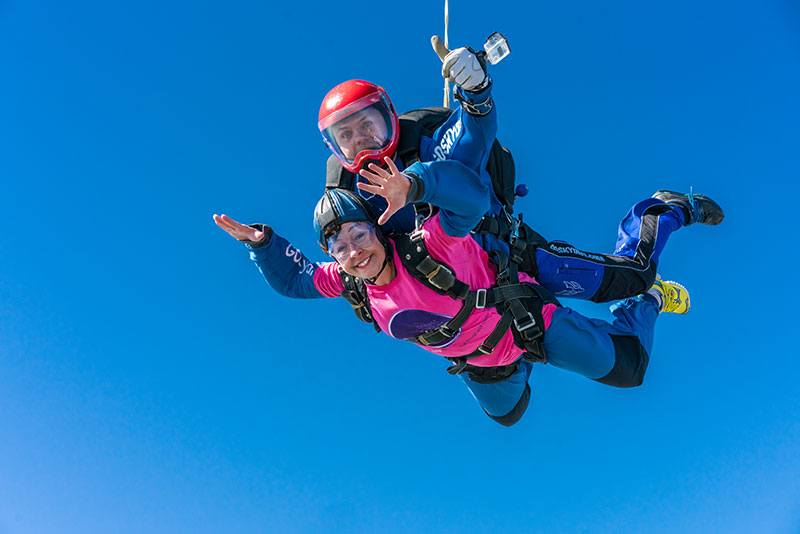 Can anyone Skydive?
At GoSkydive, we believe that anyone can experience the thrill of skydiving, regardless of their age or experience level. Tandem skydiving is an exhilarating experience that combines the thrill of freefall with the beauty of a peaceful parachute ride. Here's what you can expect:
After a comprehensive ground briefing, you'll be securely harnessed to a highly experienced instructor who will accompany you throughout your jump. As the plane climbs to altitude, you'll feel a mixture of excitement and anticipation building inside you.
Once you reach the jump altitude, you and your instructor will exit the plane together, hurtling towards the ground at speeds of up to 120mph. For 30-60 seconds, you'll experience the rush of freefall, feeling the wind rushing past you and the adrenaline pumping through your veins.
Then, at a safe altitude, your instructor will deploy the parachute and you'll enjoy a gentle 4-6 minute ride back to the ground, taking in stunning views of the surrounding countryside along the way.
At GoSkydive, safety is our top priority. We use state-of-the-art equipment and follow strict safety protocols to ensure that your tandem skydive is as safe as possible. All of our instructors are highly experienced and hold internationally recognized qualifications, and we regularly maintain and inspect our equipment to ensure that it meets the highest safety standards.
So while tandem skydiving may be an adrenaline-fueled experience, you can rest assured that you're in safe hands with GoSkydive. Come and experience the thrill of a lifetime with us!
We 've had people from all walks of life jump with us including a few celebrities checkout our videos of Zoe Ball and Bill Bailey jumping!
Help Centre
Have more questions about tandem skydiving here are some of the most common questions.
In skydiving, tandem refers to a type of jump where the skydiver is attached to an experienced instructor throughout the entire jump. The instructor wears a specially designed harness that allows the student to be securely attached to them, and the two jump out of the plane together, freefalling for a period of time before deploying the parachute.
Tandem skydiving is the most popular way for first-time skydivers to experience the thrill of skydiving because it requires very little preparation or training. The instructor takes care of all the technical aspects of the jump, leaving the student free to enjoy the experience of freefall and the stunning views from the air.
Here at GoSkydive we only offer tandem skydiving and are dedicated to offering the safest and most enjoyable experience for first timers, why not checkout our jump options and book your skydive today
At GoSkydive, we take safety very seriously and follow strict protocols to ensure the safety of all of our tandem skydivers. We use state-of-the-art equipment and follow rigorous maintenance and inspection procedures to ensure that our gear is in top condition. We also have highly trained and experienced instructors who hold internationally recognized qualifications and follow strict safety procedures.  Our team are always on hand to put your mind at ease, just take a look at some of our reviews to see what people thought of their experience with GoSkydive, often they comment on how safe their instructor made them feel.
Go Skydive is the only UK operator to offer tandem skydiving for people over 15 stone take a look at our post about weight limits to learn more.
It's natural to feel a bit nervous or apprehensive before your first tandem skydive, but most people find that the experience is really enjoyable and not at all awkward.
During a tandem skydive, you'll be harnessed to one of our experienced instructors who will take care of all the technical aspects of the jump, leaving you free to enjoy the experience of freefall and the stunning views from the air. The instructor will give you a comprehensive briefing before the jump, explaining everything you need to know and answering any questions you may have, they are always on hand to put your mind at ease and the whole team is dedicated to ensure you get the most form your day here at GoSkydive.
While the experience of skydiving may be intense and exhilarating, most people find that they feel a strong sense of connection and trust with their instructor during the jump. The instructor is highly trained and experienced, and is there to make sure that you have a safe and enjoyable experience at all times.
While you may feel a bit nervous or apprehensive beforehand, most people find those nerves soon disappear and that the experience of tandem skydiving is not at all awkward, but rather a thrilling and memorable adventure.  Tens of thousands of people have jumped with us and our reputation for customer service and safety are second to none.
It's a question we get asked often, Skydiving is a unique and exhilarating experience that is hard to compare to anything else.
During the plane ride up to the jump altitude, you may feel a mix of excitement, nervousness, and anticipation, your instructor is on hand to answer any questions you may have and to put your mind at ease. As you approach the jump altitude and the door opens, you'll start to feel the rush of wind and the intensity of the moment.
Once you jump out of the plane, you'll experience a sudden rush of adrenaline as you begin to freefall towards the ground. You'll feel the wind rushing past you, and may experience a feeling of weightlessness as you fall, if you are jumping from 15,000 feet, the highest altitude in the UK then you will get 60 seconds of unforgettable freefall exhilaration. Don't forget to book your camera package you will want to remember this!
As you continue to freefall, you may feel a sense of exhilaration and freedom as you take in the stunning views from the air.
When the parachute is deployed, you'll feel a sudden deceleration as you slow down and start to glide gently towards the ground. You'll feel the wind in your face and may be able to hear the sounds of the environment around you as you descend.
Overall, skydiving can be a very intense and exhilarating experience, but most people find that it is also incredibly fun and rewarding. The feeling of freefalling through the air and the stunning views from the sky are truly unique and unforgettable.
The speed at which you fall when skydiving tandem depends on several factors, including your weight and size as well as that of your instructor. Typically, during the freefall portion of one of our tandem skydives you will reach speeds of up to 120 miles per hour (193 kilometers per hour).
This is known as terminal velocity and is the maximum speed an object can reach when falling through the air due to the force of gravity and air resistance. During the initial moments of a tandem skydive, the acceleration due to gravity causes skydivers to speed up until they reach their terminal velocity.
After freefalling for around 30-60 seconds, depending on your jump altitude, the parachute is deployed, and you will slow down significantly, with the descent rate typically between 10-15 miles per hour (16-24 kilometers per hour). The descent rate is also affected by your size and weight as well as that of your instructor.