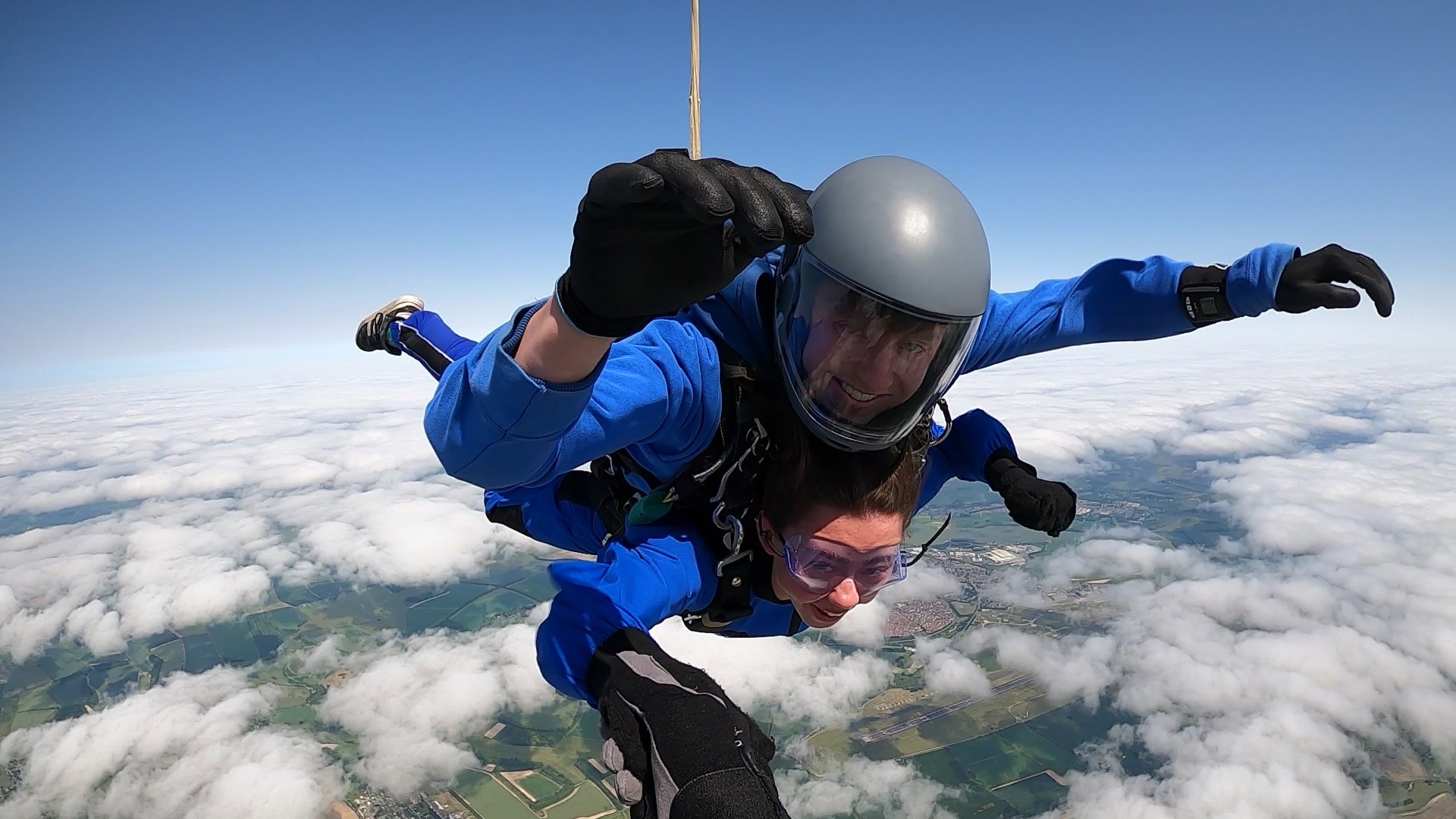 Research and Choose a Drop Zone: You've obviously done some great research as you've ended up at UK specialists for first-time tandem skydivers – GoSkydive!
Check Age and Health Requirements: Here at GoSkydive we need you to be a minimum of 16 years old, however there is no upper age limit! We also need you to meet certain health requirements, so ensure you're in good physical condition and consult a doctor if you have any concerns. Have a read through the 115a British Skydiving Self Declaration form and if anything applies, then please get the 115b British Skydiving Doctors Medical Form signed before jumping!
Book Your Jump: Contact our friendly sales team to schedule your skydiving experience. They will provide you with the necessary information, including available dates, prices, and any requirements for bookings or deposits. They're in the office 9am-6pm 7 days a week and can be reached on 01722 442967.
Complete Required Training: GoSkydive are one of the only centres in the UK that offer the hanging harness simulated training facilities, allowing you to practise your body positions with one of our top class instructors before taking the leap! For your tandem skydive, you'll be fully briefed and prepped by our team before jumping.
Prepare for the Jump: On the day of your skydive, wear comfortable clothing suitable for the weather conditions. Dress in layers as it can get cold at high altitudes. Please take off any loose items of jewellery, watches etc before kitting up and leave with your support crew or lock away safely in our locker facility. If you're unsure please contact the team on preparing for your jump, we'll be more than happy to help!
Understand the Tandem Experience: For your tandem skydive, you'll be harnessed to an experienced instructor who controls the parachute. During the freefall, enjoy the rush and the incredible views, but remember to follow your instructor's guidance.
Safety and Equipment: GoSkydive are the specialists for a reason. We will provide you with all the necessary safety equipment, including a jumpsuit, harness and goggles. Ensure that your gear is properly fitted and follow all instructions for its use.
Enjoy the Jump: Once you're in the aircraft, enjoy the scenic flight to altitude. When it's time to jump, follow your instructor's directions and take the leap! Experience the adrenaline rush as you freefall and take in the breathtaking views. After the parachute is deployed, savour the peaceful descent and the unique perspective of the world from above.
Capture the Moment: We offer several media packages that will capture your skydiving experience. Consider taking advantage of these services to have lasting memories of your adventure. Starting from £119 we'll make sure you have memories that will last a lifetime.
Celebrate and Reflect: Once you've landed safely, take a moment to celebrate your achievement. Reflect on the incredible experience and the sense of accomplishment that comes with conquering your fears and enjoying the thrill of skydiving. The GoSkydive Team will celebrate with you for sure!!
Remember, this guide is a general overview of your experience with GoSkydive, and it's crucial to follow the specific instructions and guidelines provided by your instructor on the day. Safety is paramount, so always prioritise what your instructor or the staff at the dropzone tell me.
Enjoy your skydiving experience with us and have a fantastic time!