About our Salisbury Skydive Centre
With state-of-the-art facilities, our center is located in the beautiful Wiltshire country side at Old Sarum airfield. The spectators will have great views of the jumping from our onsite cafe, which offers indoor and outdoor seating options.
Getting Here
Located at Old Sarum Airfield, in Salisbury on the central South Coast. GoSkydive is easily accessible from the South West, the South East and Central England.
When parking please use the dedicated car park entering via the Land Rover garage traffic lights. Please do not park outside Guyatts of Salisbury.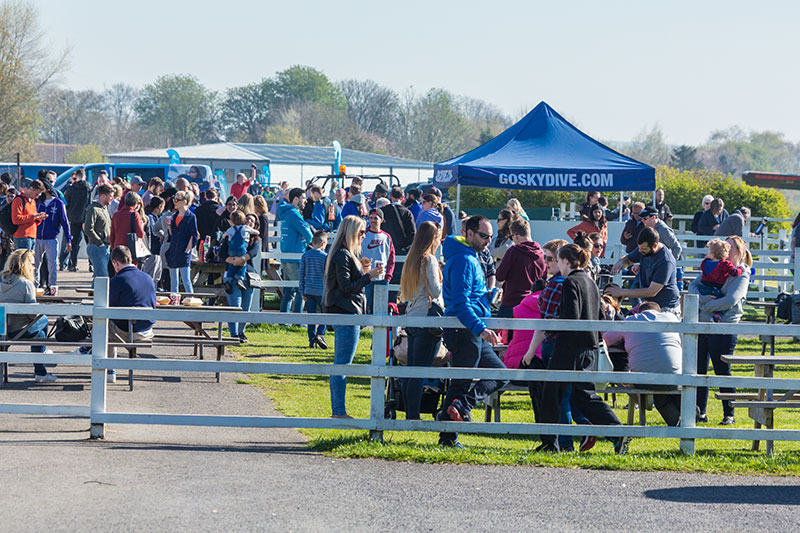 Check-In and Induction
Once you arrive at the center, one of our meet and great team members will direct you to the self-check-in area. The iPads will require your booking reference in order for you to register your arrival and input your final details.
After you check in, one of our customer experience team members will take you to our induction room where they'll explain what to expect throughout the day and provide you with some advice on how to get the most out of your tandem skydive. You will be shown some amazing videos and have the opportunity to ask any questions about the awesome experience.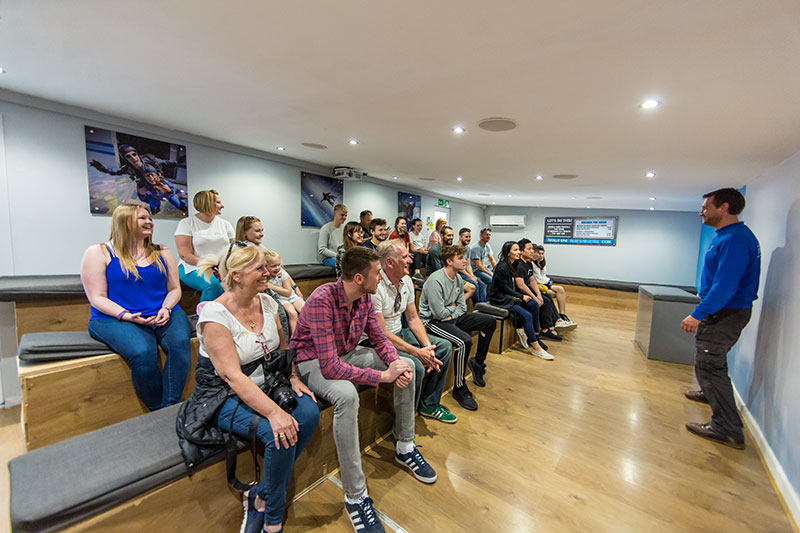 Training Centre and Kitting-Up Area
About 20 minutes before your jump you'll be called through to the kitting-up area. Here our ground crew team will assist you with goggles. You'll then be fitted with a harness before your specialist training begins.
The pre-jump training session is conducted by one of our highly qualified instructors in a simulated training environment. This session will last about 10 – 15 minutes and will give you the instruction required for your tandem skydive. This session will show you the positions you will use for plane exit, freefall and landing. It is also an opportunity for you to meet your fellow jumpers as you'll be staying with this group for your flight up to altitude.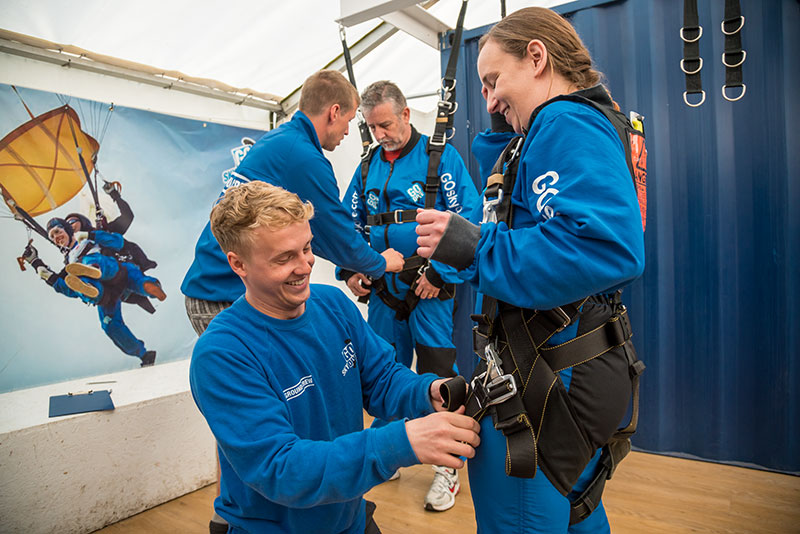 Departure Zone
The departure area is adjacent to the airfield and is our last stop before take-off. Here you'll meet you instructor and record the start of your tandem skydive movie as you wait for your flight to be ready. We operate from a fully operational airfield, so for your safety you are not allowed onto the runway at any time. Once your flight is ready your instructor will escort you to the plane.
The departure area is strictly for jumpers only but you will be close and clearly visible to any friends and family that you've brought along for support.