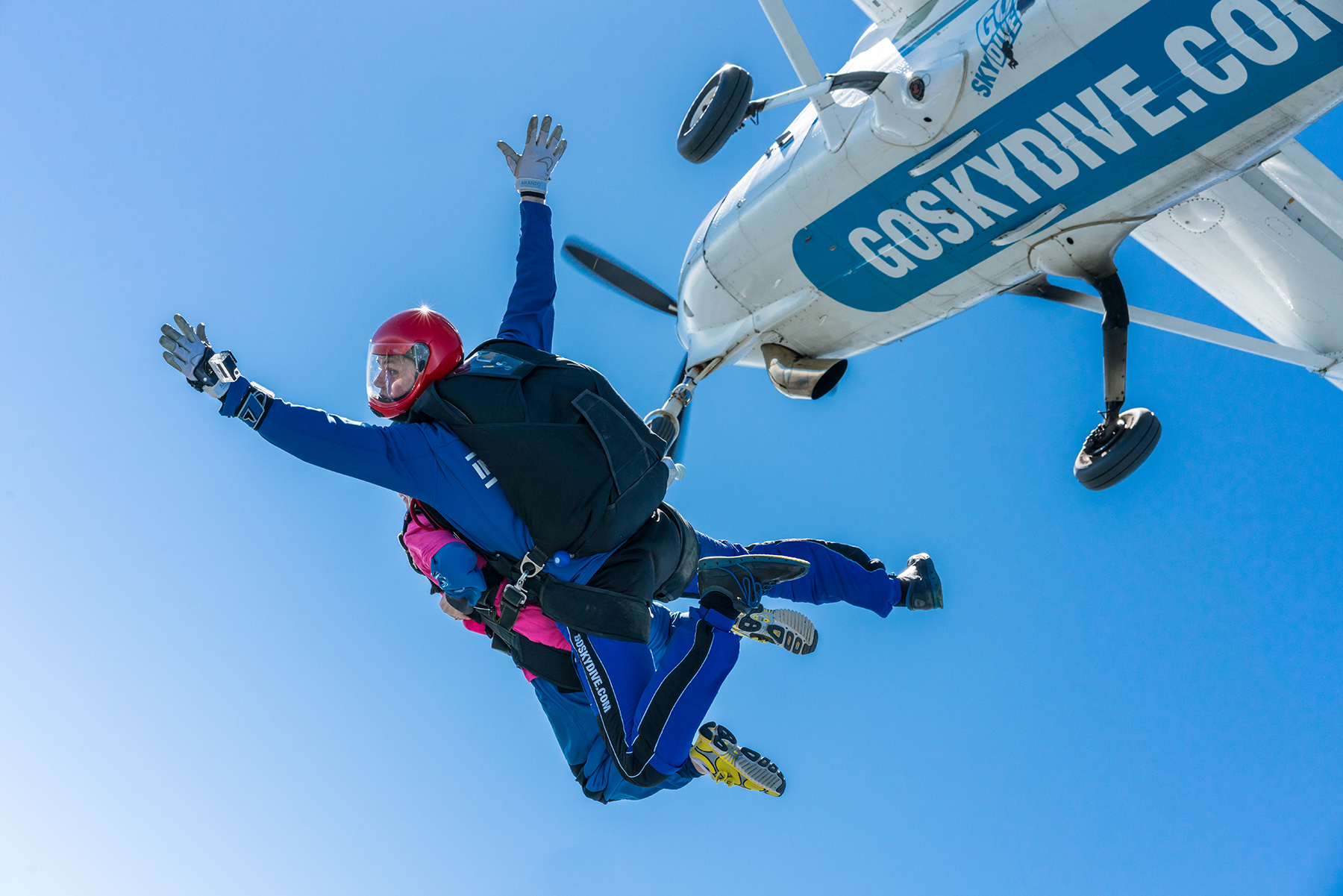 GoSkydive welcomes first female tandem skydive instructor
10 Sep 2017
Female tandem skydive instructors in the UK are rare and GoSkydive are one of the only tandem skydive centres in the UK to offer skydives with a female instructor. Holly qualified as a tandem skydive instructor with GoSkydive after completing the GoSkydive Apprenticeship Programme. Holly had to complete more than 1,300 jumps and 8 hours in freefall to master parachute handling, freefall and camera flying. Now in her second year at GoSkydive and after completing more than 2500 skydives she is one of the most popular instructors.
Holly joins about 11 other female tandem skydive instructors working in the UK, and GoSkydive's team of 20 instructors, who between them complete up to 150 jumps a day.
Holly was first introduced to skydiving by a friend whilst studying for a degree in sociology. After completeing her degree she chose a career in skydiving working as a freefall photographer in other dropzones around the world including Miami. In 2014 Holly returned to the UK and enrolled in year 2 of the GoSkydive apprenticeship scheme to become a tandem instructor.
"It really is an honour to share the special experience of tandem skydiving with someone – especially when it is their first time, and often will be their only time doing one" said Holly. "It's brilliant that I can call it my profession." Holly qualified through the British Parachute Association approved GoSkydive Apprenticeship programme – the first of its kind in the world.The programme offers candidates the opportunity to train and qualify in the adrenaline-filled industry.
During the two-year programme apprentices can fully qualify as freefall video and still photographers. They'll then go on to become fully qualified tandem skydive instructors.Gordon Blamire, the founder and managing director for GoSkydive, added: "Being a tandem skydive instructor is such a fulfilling job — you get to give people unforgettable memories while doing what you love on a daily basis. Holly will be a great asset to our team and we look forward to seeing her put her training and qualification into action with lots of Tandem Skydives this summer."
To find out more about GoSkydive's apprenticeship programme go to GoSkydive.com/apprenticeships