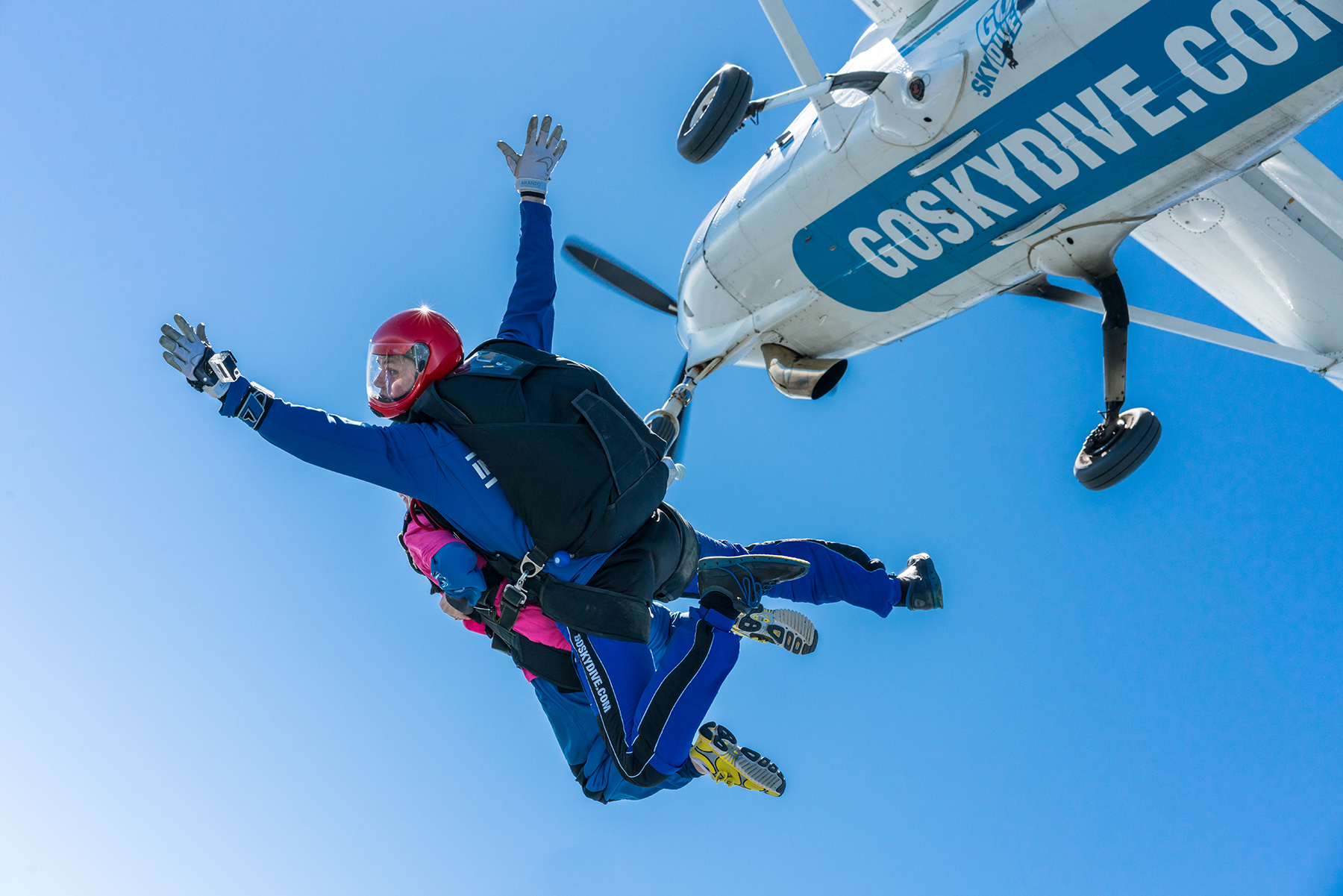 Zoe Ball Jumps For Charity
27 May 2014
GoSkydive were delighted to welcome Zoe Ball to our DropZone on Saturday 24th of May at Old Sarum airfield, near Salisbury. After some concern over the reliability of British Weathermen- Radio 1′s first female DJ on the breakfast show arrived at Old Sarum to complete her tandem skydive. Zoe arrived with her brother, Jamie, to raise awareness for the Motor Neurone Disease Association- a cause close to both Zoe's and her instructor, Lee's, heart. The DJ was calm and collected- and it seemed that this was not a phasing or daunting experience for her at all- she even said she was "not at all concerned!"

Zoe's fundraising has been very successful and her and her brother have already raised over £5,000 for the charity- with the group she was with, reaching nearly £50,000 so far! Zoe and Jamie chose to raise money and take part in 'Jumpfest 2014′ due to the loss of her step-dad, Ricky, to Motor Neurones Disease just over a year ago- and wanted to raise funds and awareness for the association.
The siblings had a laugh and a joke in the plane on the way up and they both said they were feeling "strangely calm!" By the time Zoe, her tandem instructor Lee, and two cameramen moved up toward the door, however, her opinion rapidly changed- and a lot of screaming could be heard over the sound of the 120mph wind outside of the aircraft. Zoe and her posh teddy fell nearly 2 miles above Salisbury plains and Stonehenge, and views as far as the Isle of Wight, Cardiff and Stonehenge were visible for the seventy second free fall.
GOSkydive were delighted to welcome Zoe, and the rest of the Jumpfest team to the dropzone on Saturday- and were glad that she thought it was "the best thrill in the world!" and she's going to "join a formation skydiving team now."
A massive thank you to all of you who have sponsored Zoe and the team so far, and don't forget you can still donate by going to Zoe and Jamie's Just Giving page . Lee would like to extend his congratulations to Zoe, the Sky goddess and he hopes to see you in the air soon!