The UK's Specialist tandem skydiving centre just 60 minutes from Dorset
The UK's specialist tandem skydiving centre just 1 hour from Dorset. GoSkydive is the UK's only specialist first-time tandem skydive centre. Located in Salisbury on the central south coast just 60 minutes from Dorset, GoSkydive is your closest tandem skydiving centre. If you are travelling to us from Dorset by car our centre is easily accessible by the A354.
So if you have never done a parachute jump before and are looking to tandem skydive near Dorset, GoSkydive is the closest specialist centre. At GoSkydive, customers from Dorset and across the UK are taken through a customer journey that cannot be matched by any other skydiving centre in the UK.
The view from the skydive in Salisbury to Dorset is visible on clear days. The south west coastline of England – all the way to Plymouth – can be seen from the jump. Corfe Castle rises up 243 metres in the air to the south of the jump, and the hills of Cranbourne Chase are visible further to the west.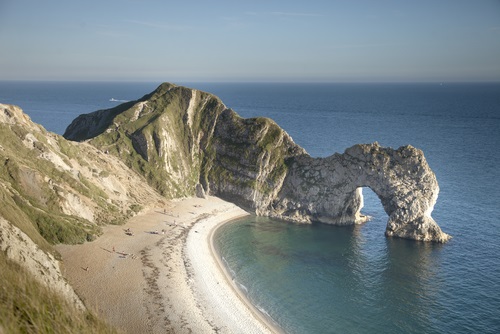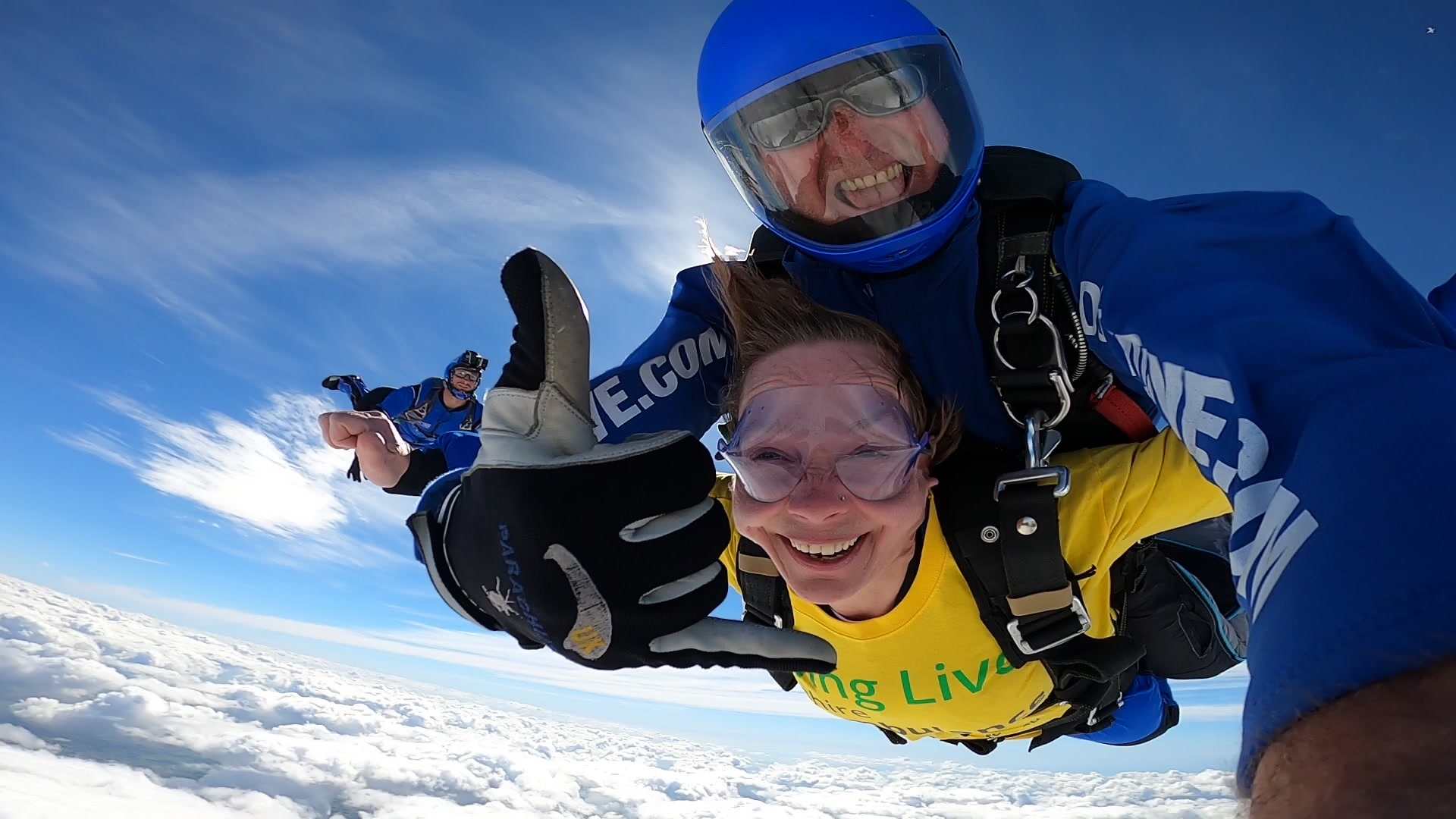 Charity Skydives Dorset
If you're thinking of a way to raise money for a good cause, tandem skydiving for charity is a great way to do it.
It is not only admirable that you are brave enough to jump out of a plane at 15,000 feet and that people give generously to your cause – but you also get to have the most amazing life-changing experience. Thousands of charity skydives are done by GoSkydive each year, and here's one – Zoe Ball's jump for MNDA.
In doing a tandem skydive for charity, you'll be doing something life changing that will attract people to sponsor your cause. A staggering half a million pounds was raised for good causes by GoSkydive in 2015, more than any other skydiving company in the UK.
Call Gaby in the charity team 01722 442967 or email charities@goskydive.com for more info on our charity affiliations.
Find out more about skydiving for charity.
Reviews
Tens of thousands of people have chosen to jump with us. Here's some of what they say!
Exciting and challenging day for anyone who dares to try, wonderful team to guide you. Well worth a go no matter how old you are ,so glad I did it with team Swansea .

zelb2022
Posted: 19/03/2023

Massive thanks to the whole team at Go Skydive, it's an experience of a lifetime. Training puts you at ease and after they show you how the parachute opens (and how many backups it has), your last fears or doubts are gone.
Great sense of camaraderie between the instructors, you really do feel that you are in safe hands. Huge shout to Greg for making my jump so easy. I really enjoyed those spins! Can't wait to do it again!

Meander23355599257
Posted: 21/07/2023

I'm telling you if you want to do a Skydive 🪂 this is the place. Short trip from London but great atmosphere and the team there is amazing. Today was my 40th birthday and I wanted to do something different and it was worth every penny. My Instructor "Crazy Dutchman Henk" was so cool and a bunch of fun, my cameraman was absolutely bonkers but they mate a great team and the experience was EPIC! I did a 10,000ft jump but will definitely be going back to do the 15,000….BEST BIRTHDAY EVER!

BigMitch868
Posted: 04/05/2023

I had a 10,000ft skydive giving me a 30 second freefall. The jump was one of the best experiences of my life, I absolutely loved it. Even after the parachute opened the thrill continued with stunts and amazing views over Wiltshire. I am glad I chose GoSkydive for my first ever jump, the team are awesome, very well organised, efficient, and super friendly. I loved that they were all genuinely excited for me and vey chatty. My instructor was called Mias and he made me feel very safe and he completed the whole experience. I opted for a free-fall photographer package which I thought was a bit pricey at the time, however, the video was ready within 1hr after my jump with a link emailed to me for downloading. The quality of the video was superb. When I seen the work that was involved in capturing my experience, I understood why it was so expensive. This is a video that I will watch repeatedly reliving this amazing day.

Gus W
Posted: 10/11/2022

Was everything I hoped and more. Falling from 15000ft is simply the most awesome experience and one that everyone should try. Thanks to Henk for making the jump with me and letting me fly! The whole experience was so well organised.

417adamf
Posted: 01/11/2022

A fantastic experience. Staff were professional, friendly and reassuring. A well run organisation. Definitely worth getting the camera packages.

E6122MRjanew
Posted: 09/04/2023

GoSkydive in Salisbury is an incredible place, the whole team were so welcoming and the nicest people. I was quite nervous but I felt entirely safe and settled considering the fact I was jumping out of a plane. Had the most epic time with my instructor Alex today, he made me laugh and made me forget the nerves! 15,000ft checked off and I will be coming again as soon as I can.

jadelX1961UD
Posted: 20/07/2023

I jumped with my team to raise money for Charity on Friday.
Although the weather was rather rubbish in the morning, which meant we were delayed by 5 hours, it was well worth the wait. The team also kept us in the loop and we had some yummy sausage sandwiches in the cafe.
I hate that I cannot remember the name of my tandem guy but he was amazing. Although there were some cheeky wind up merchants on the flight, he was super supportive and made me feel at ease. He made the experience magical as we did some fun spins and even flew through a cloud and saw a rainbow! When we landed I got a huge hug and he said how proud he was of how I did.
The first time I jumped I had a camera but it was nice this time around to go without as I could focus on the experience and not the camera if that makes sense.
This was my second skydive (8 years apart) and I can officially say I have the bug! I am now desperate to save up to get my licence. I think my instructors comment of 'Welcome to my office' whilst thousands of feet in the air probably did it.
I cannot recommend this enough. Don't let your nerves put you off! It's super safe and you are in the best hands.
Thank you Go Skydive! I will likely be seeing you again soon…

LivCooper
Posted: 14/11/2022

Sensational service from start to finish. The check in, induction, kitting up, instructor, camera man – everybody – was so supportive and friendly. The experience was terrifying, but the staff could not have done anymore to get me through the day! I felt completely safe, and despite how many jumpers they had on the day I felt the attention to detail and service was so personalised for each one of us. I highly recommend using this company if you are considering a sky dive, especially if you are a first timer. My sincere heartfelt thanks to the wonderful team, especially Mias, my instructor – I was certainly not an easy person to have due to my nerves!

ZarzaTravels
Posted: 10/07/2023

The buzz from free falling out of the plane was fantastic. Brilliant day well organised by the Skydive team.

SteveDJ1962
Posted: 09/10/2022