The UK's Specialist tandem skydiving centre just 60 minutes from Chichester
The UK's specialist tandem skydiving centre just 60 minutes from Chichester. GoSkydive is the UK's only specialist first-time tandem skydive centre. Located in Salisbury on the central south coast just 1 hour 15 minutes from Chichester, GoSkydive is your closest tandem skydiving centre. If you are travelling to us from Chichester by car our centre is easily accessible by the M27. If you're travelling from Chichester and are not up to an early start and would like a later check-in time do let the team know and they'll do all they can to accommodate you.
At GoSkydive, customers from Chichester and across the UK are taken through a customer journey that cannot be matched by any other skydiving centre in the UK.
The view from the skydive in Salisbury to Chichester is visible on clear days. It can be seen alongside the South Downs and the reaching coastline. The outline of Selsey Bill is easy to make out when conditions are clear.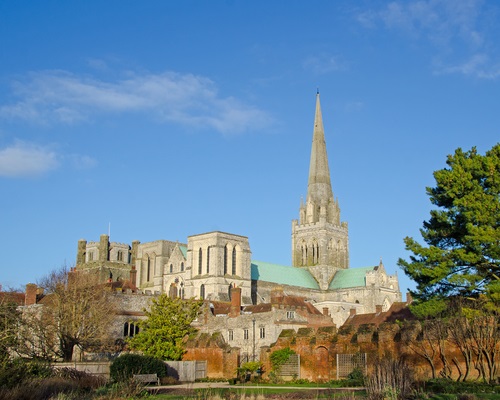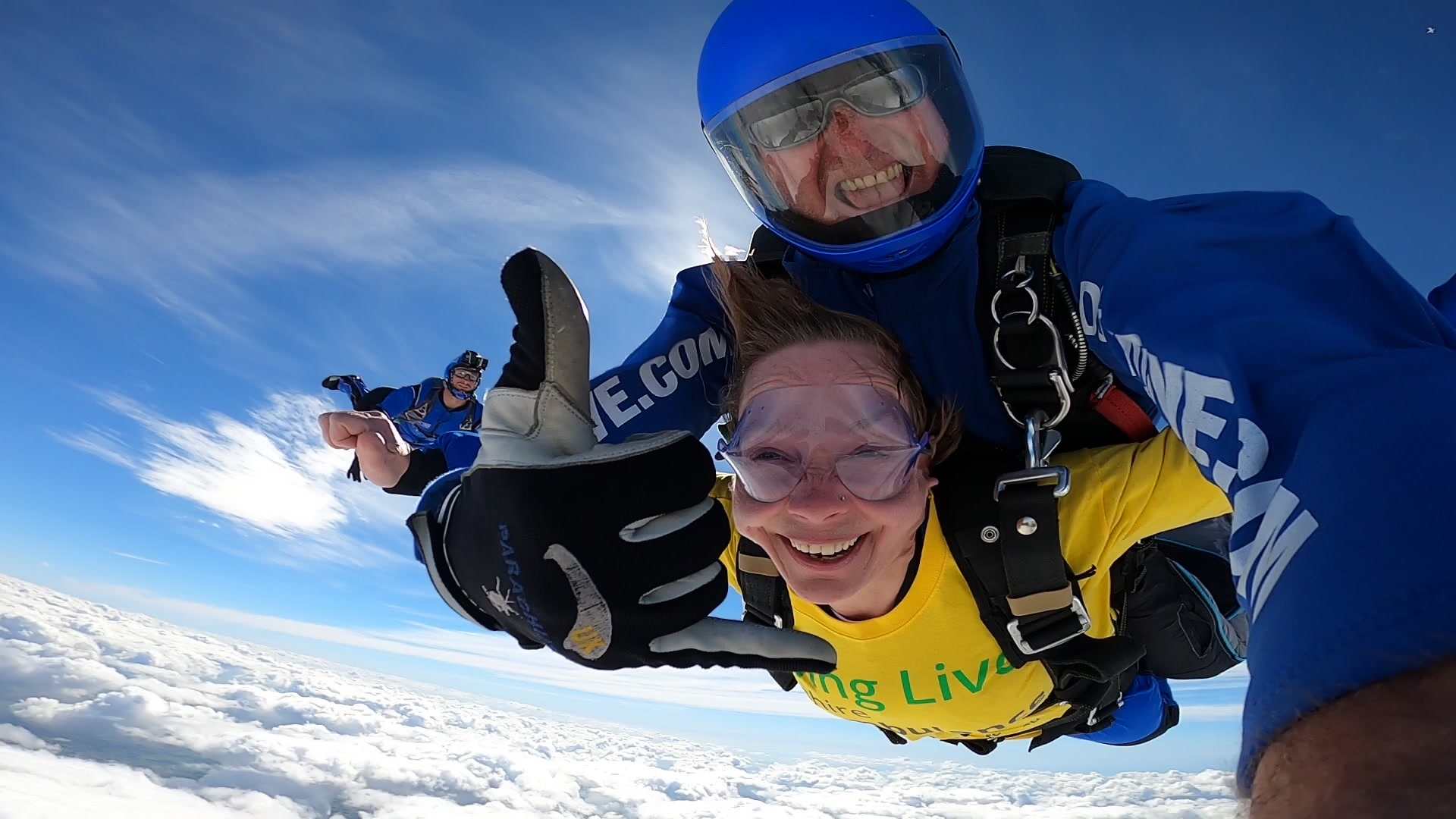 Charity Skydives Chichester
If you're thinking of a way to raise money for a good cause, tandem skydiving for charity is a great way to do it.
It is not only admirable that you are brave enough to jump out of a plane at 15,000 feet and that people give generously to your cause – but you also get to have the most amazing life-changing experience. Thousands of charity skydives are done by GoSkydive each year, and here's one – Zoe Ball's jump for MNDA.
In doing a tandem skydive for charity, you'll be doing something life changing that will attract people to sponsor your cause. A staggering half a million pounds was raised for good causes by GoSkydive in 2015, more than any other skydiving company in the UK.
Call Gaby in the charity team 01722 442967 or email charities@goskydive.com for more info on our charity affiliations.
Find out more about skydiving for charity.
Reviews
Tens of thousands of people have chosen to jump with us. Here's some of what they say!
A fantastic experience. Staff were professional, friendly and reassuring. A well run organisation. Definitely worth getting the camera packages.

E6122MRjanew
Posted: 09/04/2023

This was such an amazing experience I don't really know where to start! I was quite anxious before the jump, but all the staff are very professional and relaxed they made me feel safe, yet still excited about the impending Skydive! The atmosphere was really happy and fun, especially in the plane on the way up, which really helped with the nerves. My instructor, Fab was great – very reassuring and friendly, and the enthusiasm of the whole team was infectious. I felt really well looked after and I'm sure this experience has really helped with my confidence as they made me feel like a hero! I'm so glad I did this!

katerhay
Posted: 16/07/2023

What an experience ❤️ fantastic from start to finish! Every single member of staff was nothing short of exceptional! Massive shout out to Fab who jumped with me! He was amazing and has made me want to do even more jumps! Would have to go back with him I think! Made me feel comfortable and excited about the jump! 10/10 day

Harry W
Posted: 13/07/2023

GoSkydive in Salisbury is an incredible place, the whole team were so welcoming and the nicest people. I was quite nervous but I felt entirely safe and settled considering the fact I was jumping out of a plane. Had the most epic time with my instructor Alex today, he made me laugh and made me forget the nerves! 15,000ft checked off and I will be coming again as soon as I can.

Jade L
Posted: 21/07/2023

That was an amazing experience !!! The team and organisation are superb!!
All done very professionally and with a smile always on. No fear, no doubts just fun and lots of adrenaline running through from the beginning to the landing 5****

laurasB8107SI
Posted: 06/06/2023

Omg! The experience is indescribable. I am still on an adrenaline high ever since I jumped on 25th of Nov, 2022. This has to be one of the best experiences in my life. I would like to take time out to mention about my skydive instructor Mr. Henk Post. He calmed my nerves before and during the fall and was extreme fun. He is crazy, funny, and professional- all at the same time. And the Go Sky Dive team is incredibly fantastic, experienced, and hands-on- right from the forms to instructions to kit to the final jump. Definitely gonna recommend the team to all my friends and family! Gosh! Thank you so so much!! Love to Henk and the GoSkyDive team!!

HenaK1504
Posted: 13/12/2022

I jumped with my team to raise money for Charity on Friday. Although the weather was rather rubbish in the morning, which meant we were delayed by 5 hours, it was well worth the wait. The team also kept us in the loop and we had some yummy sausage sandwiches in the cafe. I hate that I cannot remember the name of my tandem guy but he was amazing. Although there were some cheeky wind up merchants on the flight, he was super supportive and made me feel at ease. He made the experience magical as we did some fun spins and even flew through a cloud and saw a rainbow! When we landed I got a huge hug and he said how proud he was of how I did. The first time I jumped I had a camera but it was nice this time around to go without as I could focus on the experience and not the camera if that makes sense. This was my second skydive (8 years apart) and I can officially say I have the bug! I am now desperate to save up to get my licence. I think my instructors comment of 'Welcome to my office' whilst thousands of feet in the air probably did it. I cannot recommend this enough. Don't let your nerves put you off! It's super safe and you are in the best hands. Thank you Go Skydive! I will likely be seeing you again soon…

LivCooper
Posted: 14/11/2022

What an amazing experience. Go Skydive 🪂 was absolutely phenomenal from the moment you arrive. What a professional outfit. I would have absolutely no reservations in promoting this to anyone.

francisd201162
Posted: 20/05/2023

We booked for our daughters sixteenth birthday. She loved it! Rich her jump instructor was brilliant, gave her the confidence to really enjoy the experience. The centre it's self is well organised, lots of email etc to keep you informed. Thanks to all, especially Rich. Needless to say our Sophie is now walking around with a very big smile and has now informed she wants to get her jump license!!!

Lacanche
Posted: 05/07/2023

I'm telling you if you want to do a Skydive 🪂 this is the place. Short trip from London but great atmosphere and the team there is amazing. Today was my 40th birthday and I wanted to do something different and it was worth every penny. My Instructor "Crazy Dutchman Henk" was so cool and a bunch of fun, my cameraman was absolutely bonkers but they mate a great team and the experience was EPIC! I did a 10,000ft jump but will definitely be going back to do the 15,000….BEST BIRTHDAY EVER!

BigMitch868
Posted: 04/05/2023