The UK's Specialist tandem skydiving centre just 50 minutes from Bournemouth
The UK's specialist tandem skydiving centre just less than 1 hour from Bournemouth. GoSkydive is the UK's only specialist first-time tandem skydive centre. Located in Salisbury on the central south coast just 50 minutes from Bournemouth, GoSkydive is your closest tandem skydiving centre. If you are travelling to us from Bournemouth by car our centre is easily accessible by the A338. So if you have never done a parachute jump before and are looking to tandem skydive near Bournemouth, GoSkydive is the closest specialist centre.
At GoSkydive, customers from Bournemouth and across the UK are taken through a customer journey that cannot be matched by any other skydiving centre in the UK. We are the only centre that specializes in parachute jumps for first time skydivers. But what does that mean? It means that we only do tandem skydives – you won't be competing for time and space with sports jumpers – the whole day is built around you and other first-time skydivers.
We'll consider your travel time and try and get you booked in later in the day, we'll keep you updated with weather reports to, where possible, avoid unnecessary delays. There will be a briefing within 30 minutes of your arrival, you'll receive full training in a simulated environment and there will be a whole team of people on hand to support you at all times. The view from the skydive in Salisbury to Bournemouth is visible on clear days. From the jump height, the Bournemouth coastline can be seen. When looking south west towards Bournemouth, the view of the city is flanked by the New Forest on the left, and Cranbourne Chase on the right.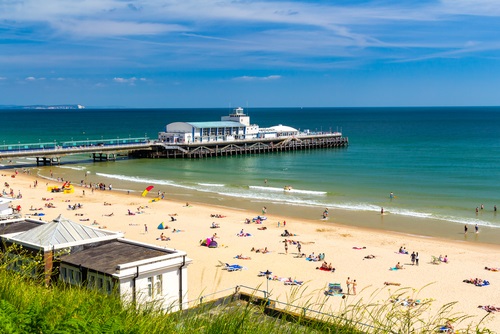 Charity Skydives Bournemouth
If you're thinking of a way to raise money for a good cause, tandem skydiving for charity is a great way to do it.
It is not only admirable that you are brave enough to jump out of a plane at 15,000 feet and that people give generously to your cause – but you also get to have the most amazing life-changing experience. Thousands of charity skydives are done by GoSkydive each year, and here's one – Zoe Ball's jump for MNDA.
In doing a tandem skydive for charity, you'll be doing something life changing that will attract people to sponsor your cause. A staggering half a million pounds was raised for good causes by GoSkydive in 2015, more than any other skydiving company in the UK.
Call Gaby in the charity team 01722 442967 or email charities@goskydive.com for more info on our charity affiliations.
Find out more about skydiving for charity.
Reviews
Tens of thousands of people have chosen to jump with us. Here's some of what they say!
Everyone here is so friendly. Throughout the day the updates regarding the weather where honest and accurate. All the instructors are super friendly and are good at calming nerves for those who are terrified but still want to get it done. A big shout out to Robbie who was my instructor for my jump at 15,000ft! Would highly recommend this to anyone! They sure do make your first jump one to remember.

Adam B
Posted: 20/07/2023

This was my second charity skydive and it certainly didn't disappoint. The team are fantastic, helpful and talk you through the hole experience clearly. Had a great instructor Richard and camera guy! Would I do another one…..too right I would!

820jezw
Posted: 20/11/2023

Amazing thing to do. Training was good and the team there seemed very safety focused and the filming was really good. Would highly recommend it.

williamo903
Posted: 09/04/2023

An amazing experience, words can't fully explain. I'm so so pleased I did it! I'd really recommend. Rich was fantastic and I felt safe couldn't have asked for a better instructor to jump for the first time with! Thank you! And can't wait to go again!!

sophielS69HL
Posted: 27/09/2022

For 20 years I have always wanted to do a skydive but never got round to booking. I am so glad I did! Incredible experience, staff were so friendly and helpful, my instructor Rich was brilliant and helped me stay calm throughout the whole thing. Loved it so much that I will defo be going back again soon. Highly recommended!

James_L_1983_Coys
Posted: 01/05/2023

This was my second charity skydive and it certainly didn't disappoint. The team are fantastic, helpful and talk you through the whole experience clearly. Had a great instructor Richard and camera guy! Would I do another one…..too right I would!

820jezw
Posted: 20/11/2022

Massive thanks to the whole team at Go Skydive, it's an experience of a lifetime. Training puts you at ease and after they show you how the parachute opens (and how many backups it has), your last fears or doubts are gone.
Great sense of camaraderie between the instructors, you really do feel that you are in safe hands. Huge shout to Greg for making my jump so easy. I really enjoyed those spins! Can't wait to do it again!

Meander23355599257
Posted: 21/07/2023

This was the most amazing experience ever! The staff were so friendly, weather updates the day before the jump were really good and we were kept updated throughout the day too. The totally epic camera package is an absolute must, photos and videos are sent the same day (mine arrived within an hour), they will be cherished forever! Cannot recommend them enough!

Helen P
Posted: 13/07/2023

The staff were great and explained everything in a way to calm the nerves. Would recommend to all thrill seekers. Adrenaline was pumping for hours. Professional and well run day

B9369CNdarrenh
Posted: 30/06/2023

I went from terrified to the most amazing experience in my life.
Each and every member of Go Sky dive were fantastic.
Mias was so so reassuring with me even though I was his 14th that day!
My camera man, oh my god my photos and video are just 100% perfect

nickywick7
Posted: 26/09/2022