The UK's Specialist tandem skydiving centre just 45 minutes from Basingstoke
The UK's specialist tandem skydiving centre just 45 minutes from Basingstoke. GoSkydive is the UK's only specialist first-time tandem skydive centre. Located in Salisbury on the central south coast just 45 minutes from Basingstoke, GoSkydive is your closest tandem skydiving centre. If you are travelling to us from Basingstoke by car our centre is easily accessible by the A303.
At GoSkydive, customers from Basingstoke and across the UK are taken through a customer journey that cannot be matched by any other skydiving centre in the UK. The view from the skydive in Salisbury to Basingstoke is visible on clear days. The town of Andover can be seen in the foreground when looking east towards Basingstoke. To the south, the hilly green terrain of the South Downs can be seen.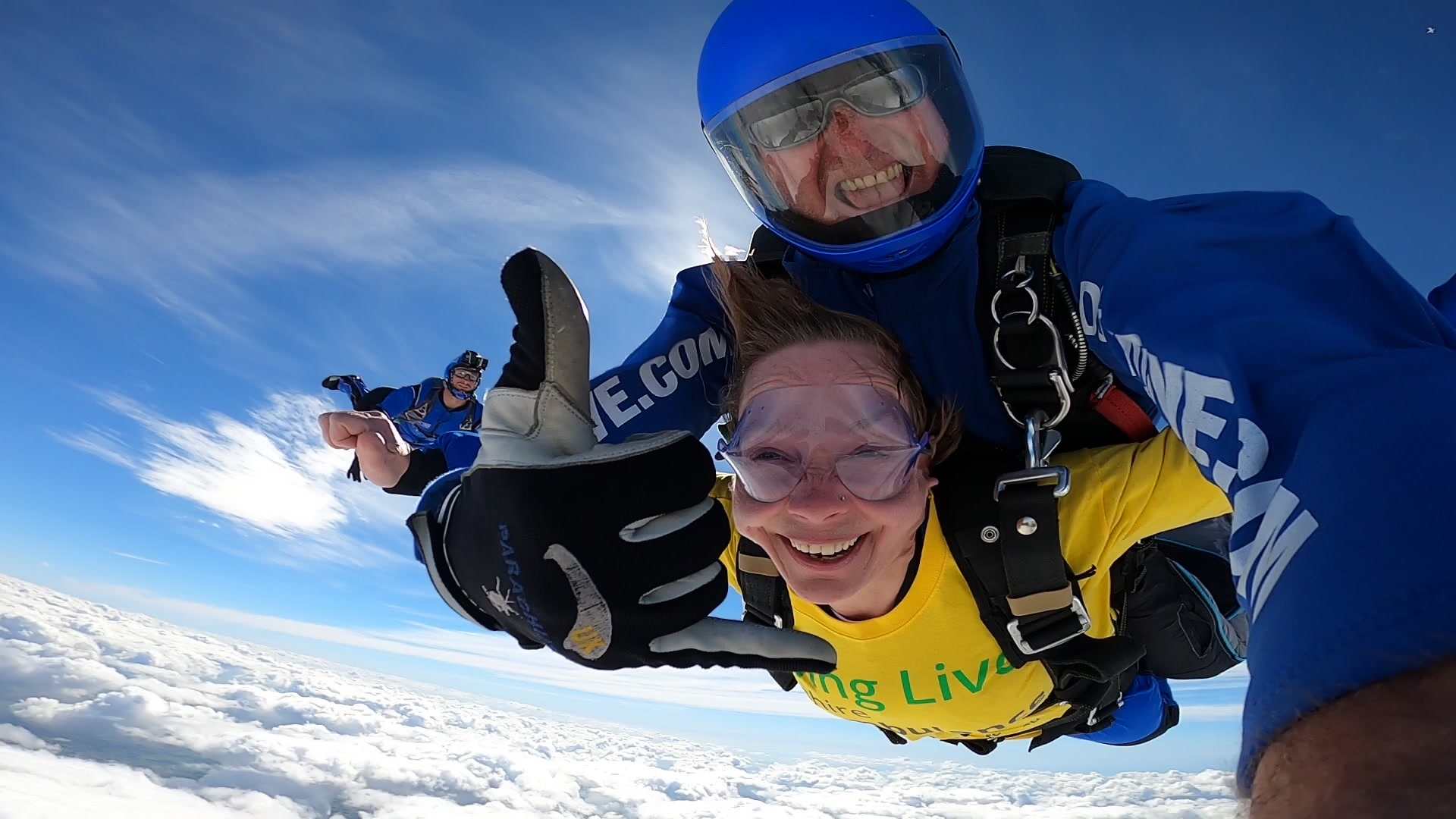 Charity Skydives Basingstoke
If you're thinking of a way to raise money for a good cause, tandem skydiving for charity is a great way to do it.
Not only do people admire your courage in jumping out of a plane from 10 or 15,000ft and give generously to your cause – but you get to have the most amazing life enhancing experience. GoSkydive works with hundreds of charities across the UK doing thousands of Charity Skydives each year and here is just one of them – Take a look at Zoe Ball's jump for MNDA here.
If you do decide to do a tandem skydive for charity – you'll be taking part in a life changing activity guaranteed to draw people to sponsorship for charity. GoSkydive works with more affiliated charities in the UK than any other skydiving company and in 2015 helped to raise a staggering half a million pounds for good causes.
Call Gaby in the charity team 01722 568755 or email charities@goskydive.com for more info on our charity affiliations.
Find out more about skydiving for charity.
Reviews
Tens of thousands of people have chosen to jump with us. Here's some of what they say!
Brilliant experience, the whole experience was very well organised. Henk (my instructor) was fantastic. All staff I encountered were very professional yet very fun. On the whole it was the best day out and I would recommend a skydive to anyone, one more ticked off my bucket list.

christinahN8818KP
Posted: 10/06/2023

Sensational service from start to finish. The check in, induction, kitting up, instructor, camera man – everybody – was so supportive and friendly. The experience was terrifying, but the staff could not have done anymore to get me through the day! I felt completely safe, and despite how many jumpers they had on the day I felt the attention to detail and service was so personalised for each one of us. I highly recommend using this company if you are considering a sky dive, especially if you are a first timer. My sincere heartfelt thanks to the wonderful team, especially Mias, my instructor – I was certainly not an easy person to have due to my nerves!

ZarzaTravels
Posted: 10/07/2023

The whole day. Every body was very friendly and helpful, my sky dive instructor Chas was brilliant, perfect day all round 👍

Oleary1979
Posted: 24/09/2022

The staff were great and explained everything in a way to calm the nerves. Would recommend to all thrill seekers. Adrenaline was pumping for hours. Professional and well run day

B9369CNdarrenh
Posted: 30/06/2023

Absolutely incredible experience, one I feel absolutely honoured to have had. Myself and my partner did it together as a belated birthday present after various postponements for 1.5 years which Josh, the main person I had email contact with, was very accomodating. I was nervous for weeks in the lead up to it but the centre staff and my instructor, Alex, were absolutely fantastic. An experience of a lifetime, I want to go back for more!

BestGirlfriend101
Posted: 21/11/2022

That was an amazing experience !!! The team and organisation are superb!!
All done very professionally and with a smile always on. No fear, no doubts just fun and lots of adrenaline running through from the beginning to the landing 5****

laurasB8107SI
Posted: 06/06/2023

Everyone here is so friendly. Throughout the day the updates regarding the weather where honest and accurate. All the instructors are super friendly and are good at calming nerves for those who are terrified but still want to get it done. A big shout out to Robbie who was my instructor for my jump at 15,000ft! Would highly recommend this to anyone! They sure do make your first jump one to remember.

Adam B
Posted: 20/07/2023

This was such an amazing experience I don't really know where to start! I was quite anxious before the jump, but all the staff are very professional and relaxed they made me feel safe, yet still excited about the impending Skydive! The atmosphere was really happy and fun, especially in the plane on the way up, which really helped with the nerves. My instructor, Fab was great – very reassuring and friendly, and the enthusiasm of the whole team was infectious. I felt really well looked after and I'm sure this experience has really helped with my confidence as they made me feel like a hero! I'm so glad I did this!

katerhay
Posted: 16/07/2023

What an experience ❤️ fantastic from start to finish! Every single member of staff was nothing short of exceptional! Massive shout out to Fab who jumped with me! He was amazing and has made me want to do even more jumps! Would have to go back with him I think! Made me feel comfortable and excited about the jump! 10/10 day

Harry W
Posted: 13/07/2023

Massive thanks to the whole team at Go Skydive, it's an experience of a lifetime. Training puts you at ease and after they show you how the parachute opens (and how many backups it has), your last fears or doubts are gone.
Great sense of camaraderie between the instructors, you really do feel that you are in safe hands. Huge shout to Greg for making my jump so easy. I really enjoyed those spins! Can't wait to do it again!

Meander23355599257
Posted: 21/07/2023