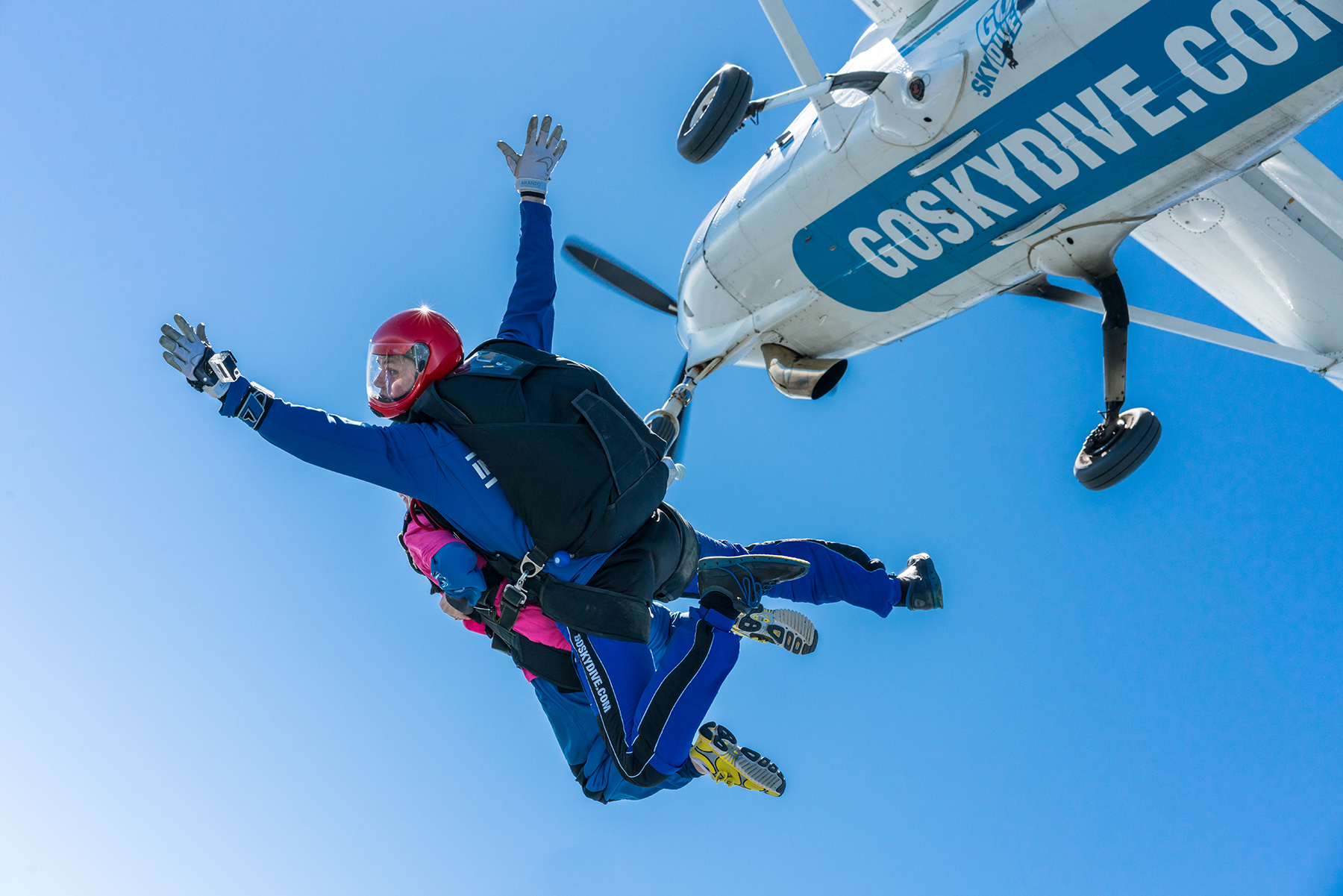 Max wins at the National Skydiving Championships 2018
05 Sep 2018
It's that time of year again for the National Skydiving Championships! One of the most important competitions of the year for any competitive skydiver, second only to the World Championships which will be held next month in Australia.
Max Hurd, GoSkydive's tandem instructor won the British title in 2017 and was looking to retain for a second year. This year's competition had nine competitors including Matt Byrne who beat Max in the final ISSA meet in July where he set a new British record, 6kph faster than Max's record of 559kph.
Max arrived at the drop zone Friday afternoon and got in some practice jumps, feeling quietly confident his performance improved during training. Max brought his secret weapon in the form of an aerodynamic helmet. In training this has given an extra 15-20kph peak speed, but the downside of this is that it becomes very tricky to 'fly'. If the dive angle is wrong it can act like a rudder and completely throw Max out of position. After a dozen practice jumps with the new helmet it's time to see how it goes in the heat of competition.
The first round on Saturday morning, Max put a 477.45kph on the board. Not bad but could do better. Cez, another competitor posted 481.83kph, a new PB for him. Round two, Max hit 511.83kph placing him firmly in the lead. Unfortunately it all took a turn for the worse after that with Max scoring zeros on rounds three, four and five. The new helmet was causing some problems, making Max wildly unstable just as he approached peak speed. The final score is based on your best five jumps out of eight, which means Max has got to make sure he scores decent speeds in the final three rounds.
It was then time for Max to do some mental maths and work out a plan. Matt, the main threat was having real trouble at that point and could not find his groove being quite far down the table. Cez was putting some good scores on the board but he was not supersonic. The other threat was from Jimmy McCarthy, who is new to speed skydiving but has plenty of jumps under his belt as well as being a vertical wind tunnel coach so he has an excellent feel for the airflow and shouldn't be underestimated.
Round six gave Max 494.67kph, a nice result to bolster his confidence. Round seven was 481.38kph, another one like that and Max would be in a strong position to take the win. Round eight was completed before the end of the day, which means a delay in the final scores as the judges were swamped with data downloads. A nail-biting hour as the competitors awaited the results.
The results then came in, Max's final jump was 479.45kph giving a total score of 2444.78kph (cumulative total of 5 best rounds). That gave Max the win putting him clear of Cez in second place, Jimmy in third and Matt in fourth. Congratulations Max! Max was not as fast as he was last year, but still faster than other previous winners and he is pleased with the result. Now there is just a month before the World Championships. Time for another training camp and final preparation for the big one!