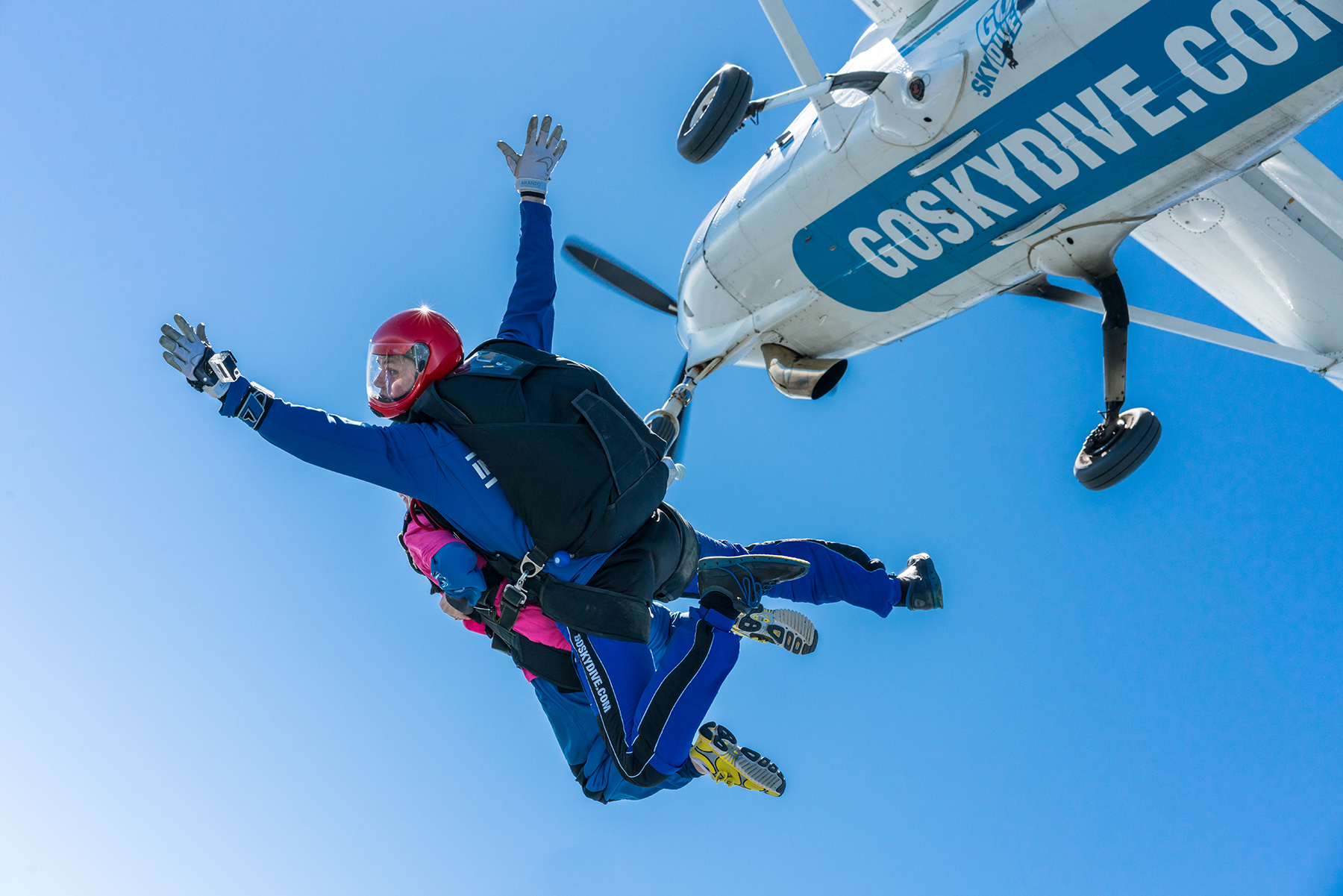 How to plan an epic skydive marriage proposal
04 Feb 2015
Okay, so you've decided to pop the big question to your significant other. Deep breath. Now you just need to make it happen without sweating or shaking like a leaf. But how to make it special? The problem is that a marriage proposal has to be so many things: it has to be personal; it has to be unique; it has to be memorable; it has to be different… a skydive! Perfect. Now how to go about organising it.
Step 1.
Choosing the right jump centre
Plan, plan, plan. Failing to plan is planning to look like an idiot in front of the person you want to spend the rest of your life with. Focus on knowing what you're going to do and when you need to get it done by. First up, choose your skydiving centre and make sure your other half would be up for it in theory. If they've never done it before, discuss the possibility of skydiving and test their response. If it's all good, go for it. If neither of you are regular skydivers you'll want to organise a tandem jump.
Step 2.
When to pop the question
It is not really going to be possible to do anything when you're in freefall or under canopy so decide whether you are going to pop the question in the plane just before you jump out of the door or when you are both back on the ground.
Step 3.
Secrecy on the day
Make sure your skydiving centre and instructors know what you're planning in advance. The Goskydive team will be really keen to help you plan while keeping it a secret and they will also be able to make suggestions on how best to do it. They can also help plan a pop-up crowd of cheering family and friends to suddenly be there at the bottom or let you have a quiet space if you prefer. When planning something like this you are going to need a stack of excuses longer than your arm. Sneakily lying your way throughout the entire process. An excuse to go, an excuse to stop if the weather suddenly changes, an excuse to why you're nervous…oh actually that one is fine. You'll want to arrange some friends and family and friends to be there at the bottom when you land.
Step 4.
Preparing to remember the day
Getting the skydive centre's staff on-board with your plan will also help massively – they can set-up huge banners and be on hand with the ring and flowers. Cameras are not allowed unless you are at instructor level. No-one down below wants your expensive camera, a cardboard sign coated in paint and a dozen red roses falling on top of them from 10,000ft.
Step 5.
Extras
Achieving a great end result is about the extras. The little things will make it a complete success. You'll definitely want to capture as much of this as you can so review all the video and stills packages on offer and make sure your cameraman is booked and briefed well in advance.  The camera packages range between your instructor filming with a wrist mounted GoPro, to  a qualified freefall photographer who will jump with you. Just don't have too much fun you forget why you are there. Also, between going up in the plane and your landing is about 25 minutes which is plenty of time for the team on the ground to get your proposal paraphernalia together. Get a pre-printed T-shirt…. And you've done it. An amazing proposal and you've written yourself into the history books of pure 'epicness'.
Image resources:
stuff.co.nz/the-press/news/5969372/A-sky-high-marriage-proposal
startskydiving.wordpress.com/2012/03/17/start-skydiving-3-19-2012-test/
skydivecsc.com/reservations/info/skydiving-marriage-proposal-package/
goskydive.com/a-cameramans-guide-to-shooting-in-the-sky
funfix.com/skydiving/Gallery/