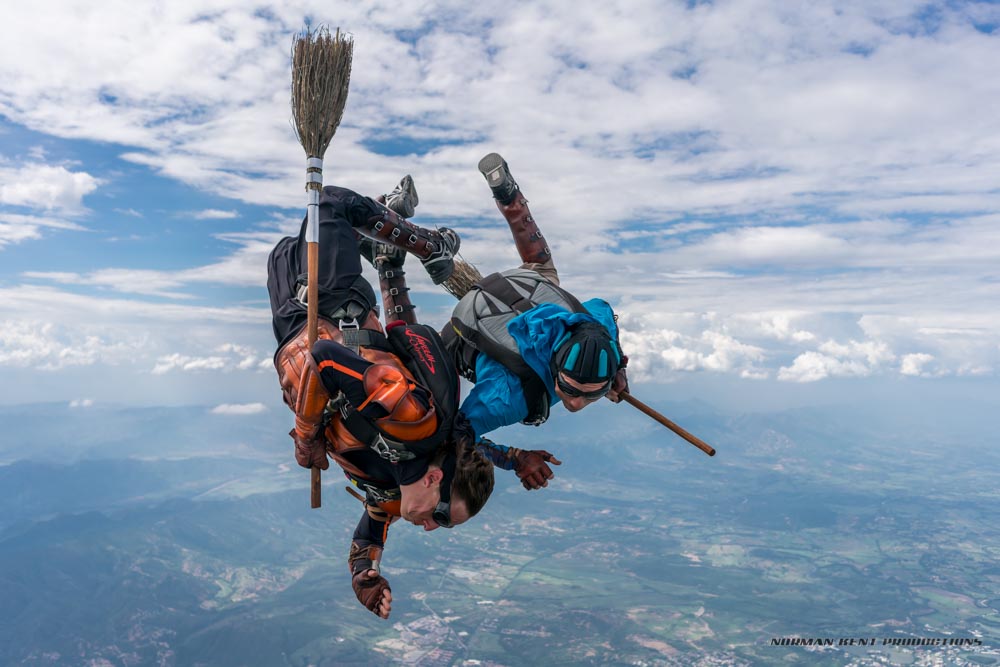 Norman Kent, Aerial Director for the recent ETB commercial featuring 'skydiving Quidditch' coaches GoSkydive crew
Posted: 9th May 2016
Image courtesy of Norman Kent Productions
Hollywood freefall photographer and cinematographer, Norman Kent has visited the team at GoSkydive this week for a series of exclusive hands-on training and development sessions. Aimed at advancing the teams' camera skills, Norman's visit demonstrates GoSkydive's investment to creating the ultimate tandem skydiving experience for customers.
Norman Kent, 59 from El Paso, Texas has been a photographer and cinematographer for over 45 years, many of them spent as a skydiving and aerial cinematographer, director of photography and stuntman. In the skydiving community, Norman has earned the respect as the world's best skydiving cinematographer.
With 'delivering an exceptional customer experience' being at the heart of GoSkydive brand, Norman Kent was invited to visit the team to inspire and share new techniques on how to capture and create the best quality freefall photography and cinematography possible. With Norman's coaching, GoSkydive's media products will be not only the best in the UK but the best in the world giving customers exceptional footage of their tandem skydive experience.
Norman's three day visit to GoSkydive included a series of workshops and presentations to critique the team's video work and both filming and flying techniques. These techniques were then put into practice by the team with flight position training in freefall with Norman.
See Norman (in the yellow and red squirrel suit) filming our crew in the video clip below.
Norman has participated as a cameraman for numerous feature films, commercials, television programmes and documentaries, as well as many blockbuster movies including Godzilla, Grudge Match, Get Smart and XXX. As a filmmaker, Norman has produced several skydiving films released worldwide, reflecting the talent and creativity of his production background.
His adventurous and varied career has also seen him become one of the first two people to freefall 10,000ft and land on the North Pole and create several of his own in-house projects including 'Ride A Cloud' and 'Willing To Fly'.
Most recently, Norman was the aerial director of photography of the highly successful Harry Potter themed advertisement for Columbian telecommunications company ETB. The sequence featured a dynamic game of skydive Quidditch that caught the eye of a worldwide audience after going viral shortly after its release at the end of April.
Norman has kindly shared the commercial with us here...
During his visit, Norman commented: "I'm really excited to be visiting GoSkydive – the commitment to customer service here is exceptional and that is demonstrated through their investment in camera flyer training. To experience a tandem skydive is to experience the sensation of flight without a machine, it is an all-encompassing experience of freedom and the only way that that can be captured and witnessed by others is through film. As camera flyers it is our job to capture the customers experience in a way that enables them to relive it as closely as possible. It's a huge responsibility and it's something that both the team at GoSkydive and I take very seriously."
"The team here at GoSkydive already have a great reputation for creating unforgettable experiences for customers, but it's fantastic to see that they're all open to learning new ways they can do or improve upon what is already being done."
Gordon Blamire, founder and Managing Director for GoSkydive, added: "It's been fantastic to welcome Norman to GoSkydive and to learn from his wealth of knowledge and experience. The team are literally buzzing – they have been blown away by Norman's exceptional talent"
"He's been working closely with our team to help advance our tandem skydive instructors and camera operators' photography and cinematography skills and teach them new techniques, so we're able to produce world class media for our customers to take away with them. Norman's insight and expertise is invaluable - we look forward to putting his teachings into practice as we prepare for a busy summer."