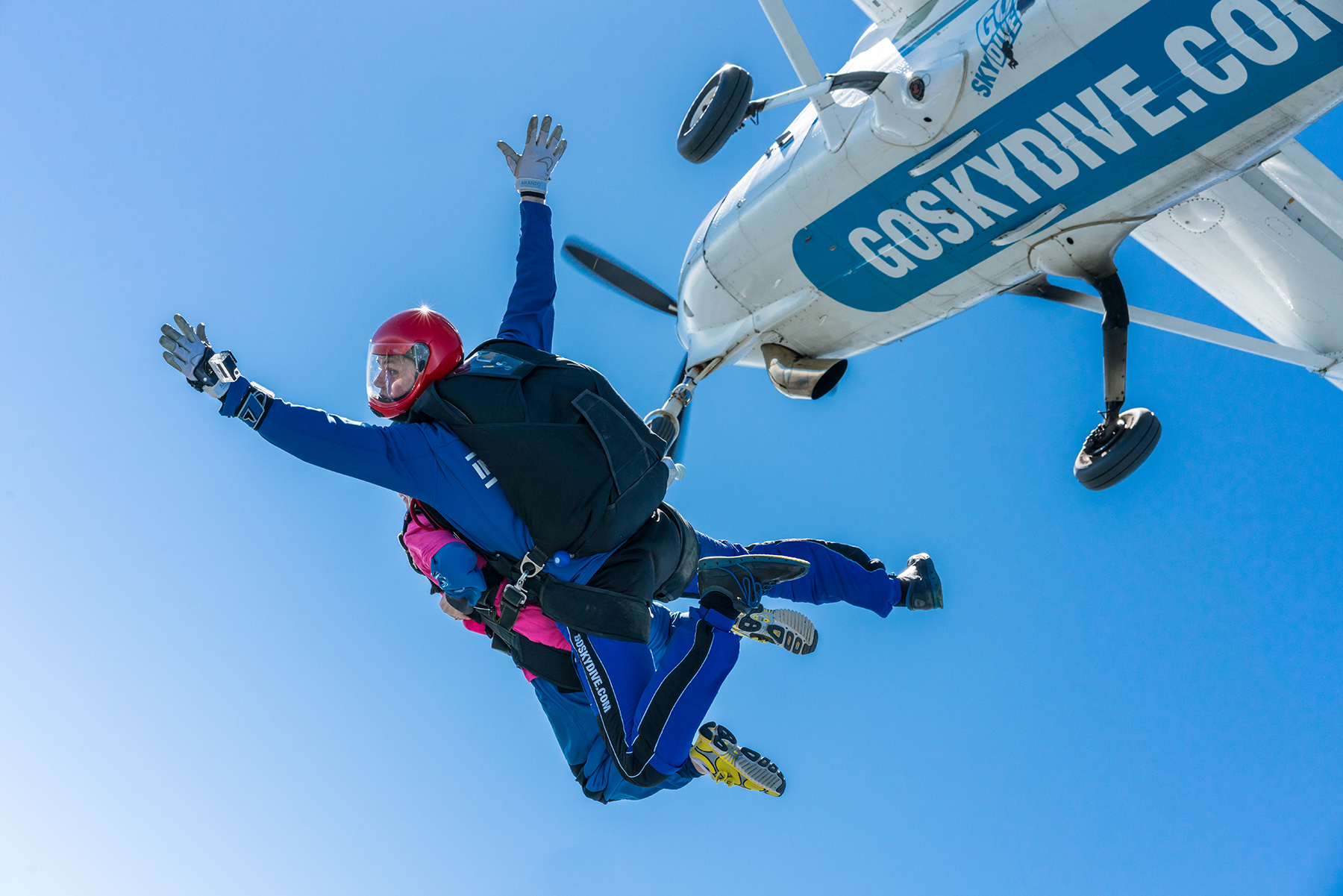 GoSkydive celebrates 50,000 tandem skydives
13 Sep 2019
Saturday 7 September 2019 GoSkydive, Old Sarum Airfield celebrated reaching 50,000 tandem skydives. The celebration was marked with cakes, balloons and the 50,000th tandem skydiver, Michael Hall, received a golden ticket to jump for free. GoSkydive also donated £1000 worth of vouchers to charity partners.
Gordon Blamire founded GoSkydive in 2008, with the vision to make tandem skydiving more accessible to everyone and provide true life-changing experiences to customers. GoSkydive, regulated by the British Parachute Association, has lead the way through safety innovations and does more tandem skydives than any other UK dropzone. As a tandem-only dropzone, GoSkydive specialises with first time jumpers and offers full pre-jump training, from videos and induction talks through to the worlds only hanging harness simulation training. GoSkydive also has the worlds first skydiving instructor apprenticeship programme that takes people from not having jumped before, to fully qualified camera flyers and tandem masters. The next Instructor Apprenticeship open day is 14 October 2019.
The oldest jumper for GoSkydive was 100 year old Sydney Crossland.
GoSkydive jumps from the highest UK altitude, 15,000ft, which gives 60 seconds of freefall at around 120 mph and has the UK's heaviest tandem customer limit which is up to 18 stone.
GoSkydive works with over 300 charity partners and helps raise over £1m a year through tandem skydiving.
Michael Hall, who jumped tandem from 15,000ft, with instructor Edd King had Adam Harrison plus Andy Inman as freefall camera flyers. Michael said the jump was all the more special as it was his 40th birthday next week.
Carl Griffiths, Marketing Manager – GoSkydive:
"Reaching 50,000 jumps is a huge milestone for us. Tandem skydiving is an amazing experience and I'd like to thank our customers who have made this possible and endorsing GoSkydive with their online reviews."
Paul Shipway, General Manager – GoSkydive:
"We would like to thank each and every one of our 50,000 intrepid customers for helping us reach this amazing milestone and all the team at GoSkydive for making our customers' experience such a memorable one."
Emily Wise, Charity Account Manager – GoSkydive:
"Skydiving for charity is a great way to conquer your fears and do something incredible. Not everyone can run a marathon but tandem skydiving for charity is perfect to tick something off your bucket list and raise money at the same time."