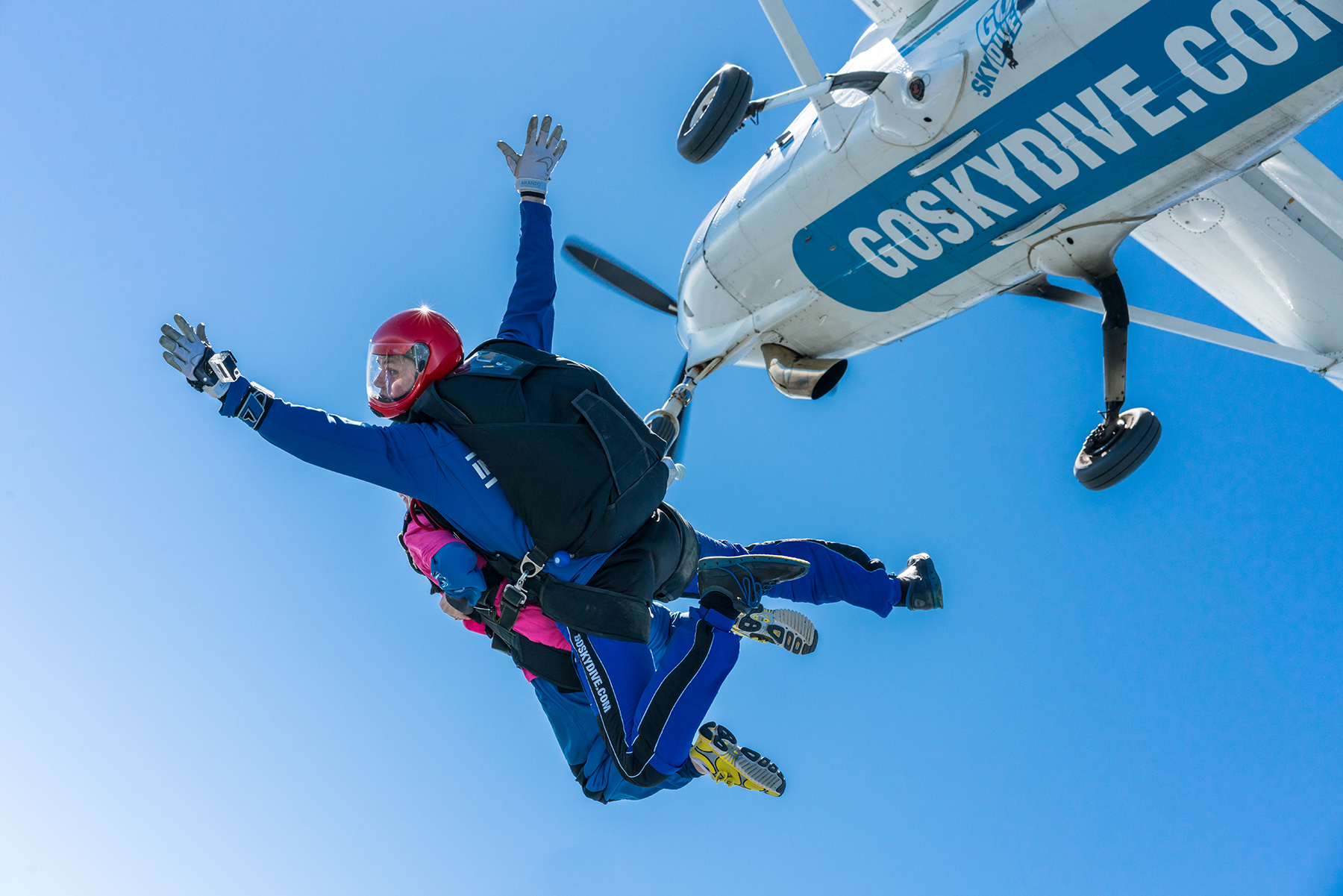 Friday 13th – not such an unlucky date after all for these skydivers
11 Sep 2018
Matej and Anastasiia wanted to dispel the myth about Friday 13th being an unlucky day. The couple first met on Friday 13th in 2016 and said Friday 13th would become the lucky dates in the calendar.
Matej Navara, a computer programmer, met opera singer Anastasiia Golovina, on Friday 13th May 2016 after seeing her sing. They went on to celebrate every subsequent Friday the 13th with meals out or exciting pursuits like go-karting.
Matej, from south west London, made the last of the Friday 13th dates in 2018 really special… by asking Anastasiia to marry him. Matej said "The skydive was a huge surprise."
"I'd been trying to make her think that I didn't want to get married any time soon, but really, I'd been planning this for months."
"I didn't even tell her where we were going on the day and, when she landed, full of adrenaline, I was down on one knee with a diamond encrusted engagement ring. Luckily, she said yes."
"A friend, who is going to be one of my best men, had recently been skydiving and we were talking about it, when we had a lightbulb moment. Proposing after a skydive would be perfect – although I knew I was really testing my luck on an unlucky day!"
"I contacted a skydiving centre called GoSkydive and asked them if they could help. They were very accommodating and told me the best and safest way to do it."
"I drove out to Salisbury and I think she reckoned we were going horse-riding, because it was in the countryside. I think she was a bit nervous when we pulled up and she realised it was a skydive, but, luckily, she agreed to give it a go."
Matej gave the ring to staff before joining a group of people ready to complete their tandem skydives.
Matej jumped from 10,000ft with 30 seconds freefall at 120 mph, before the canopy deployed and safely landing. Matej retrieved the ring from staff and prepared for Anastasiia to land minutes later. After she stood up she saw Matej on one knee with ring-in-hand. She immediately said yes!
"It was the perfect moment," Matej said. "It all went how I wanted and she was very emotional."
"We had the perfect Friday the 13th and we're going to keep celebrating them, even after the wedding."
Good luck to the happy couple!